Posted in Desserts on June 5, 2017
"When it comes to product innovation in the ever-changing dessert market, good is never good enough."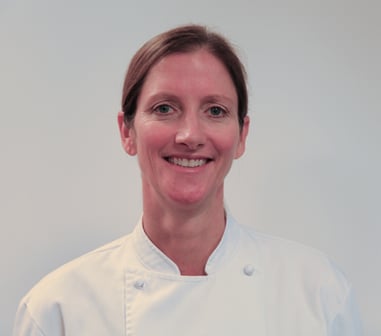 Bio: Chef Mitchell has over 31 years of experience in producing the high-quality pastries, confections, ice creams, wedding cakes and baked goods in fine hotels, restaurants and the manufacturing industry. A former faculty member at the Culinary Institute of America at Hyde Park, where she earned her culinary degree, and the University of Hawaii, she holds an array of culinary certifications and memberships and has been featured in Chef Educator Today magazine.

LCS: Could you share your background and explain your role at Mondelēz International?
CM: I spent over nine years in bakery product development at Crestone Baking Company, Galaxy Desserts and at the Culinary Institute of America, where I also worked on the wedding cake chapter of the institute's first-ever baking and pastry publication. I've also written a bi-monthly column for American Cake Decorating titled "Baking Advisor." As a senior executive chef for Mondelēz International, I work with customers to help them get the full potential out of the ingredients they purchase from us. I also develop recipes for foodservice customers and our online recipe database.
LCS: Desserts inspired by diverse cuisines and containing eclectic ingredients seem to be on the rise as demand for new and exciting flavor experiences increases. What do you consider the most interesting globally inspired dessert trends today?
CM: Cones certainly seem to be on the rise. In terms of "globally inspired," the bubble waffle cones or the cones shaped like a fish, currently at a shop named Taiyaki NYC, come to mind. The shape of the fish cones was inspired by an actual fish that's popular in Japan. It's an interesting story, and in fact, telling a story about your product is huge. More and more people want to know where the food came from and what makes it special and unique.
LCS: As desserts become more experimental and innovative, what do you think are the most important influences that come into play?
CM: I think it's become especially important to keep flavors true to what they are, use pure ingredients wherever possible and constantly keep an eye on what's going on around you. New trends are popping up all of the time and you need to play off of them while they are hot.
LCS: Toppings and add-ins seem to be a major trend in desserts. Any exotic or unusual ones that are especially noteworthy?
CM: I've noticed more high-end toppings creeping into the ice-cream-topping scene, such as cacao nibs and fresh waffle cone pieces. Fresh fruit toppings are big too. Pomegranate arils and honeycomb, innovative brittles, candied nuts rather than plain nuts, and interesting sauces--either flavored chocolate and caramel sauces rather than plain--seem to be gaining ground. It also looks like butterscotch sauce, either plain or flavored, is starting to make a comeback.
LCS: Any innovative flavor combos or mash-ups in the dessert category that have grabbed your attention?
CM: When I think of innovative desserts, I think of the combinations I'm seeing that have a variety of items that go well together in one dish--maybe not extreme flavors, but the fact that they are all put together into one bowl or shake makes them especially delicious. I love the look of the shakes with a small slice of pie, a cupcake, etc., stuck on top of the shake--scrumptious, but not overindulgent. This year we'll have two new shakes on our website, so be on the lookout for those!
LCS: How can Mondelēz International help foodservice operators diversify their dessert assortments?
CM: People love our trusted brands; they always seem to have a hankering for them. So when you apply them to create on-trend and unique pairings, the product mix is still approachable and trustworthy. There will always be those people who say they want something new but have a tendency to revert to the tried and true. You want to find a balance. Give your customers something new in a format that they understand.
LCS: How has travel helped shape your approach to creating new desserts?
CM: I look everywhere for ideas, not just food. Colors and styles play an important part in trends so we need to pay attention to trends from every aspect. Travel provides rich cultural experiences, culinary and otherwise, that can lead to great ideas for new desserts.
LCS: Any international twists on American dessert staples that you'd like to see?
CM: New fruits from Asia or possibly spice would make for interesting combos with the tried-and-true. I've seen cardamom pop up in ice creams recently, so children in some cities are growing up with cardamom ice cream. Think about it. Coffee ice creams and branding of those are popular. A Vietnamese coffee ice cream might be intriguing. Lastly, chocolates from different growing regions and highlighting the region would be interesting. Again, tell a story. A dessert may cost more, but people tend to be more willing to pay a bit more when they know something about the history of the product or ingredient.
LCS: Some say that international cuisine is a way for millennials to experience other countries right here in the states, without the high cost of travel. Are any new dessert trends tapping into this culinary wanderlust?
CM: We can look to fine dining and new smaller fast casual concepts popping up here and there for inspiration and for the latest foodservice trends, including desserts, that reflect international influences. I'd say Asia is the biggest influence, especially their spices and exotic fruits, coffees, teas and preparation methods of savory items.
LCS: What future trends in desserts do you think foodservice providers should watch for?
I can see different dairy in ice cream such as buttermilk and sour cream, honey, herbs from the U.S. or abroad, malt and different sugars becoming popular. I've also noticed more and more vegan ice creams at scoop shops. I think unique chocolates from different regions with a cacao percent of 70% or higher can only increase in demand. People are often more curious about something bold than they were even five years ago.
For further insights into trending dessert innovations, read Mini Desserts Score Major Points.
What are your thoughts on what Chef Mitchell had to say? Anything to add to the mix?