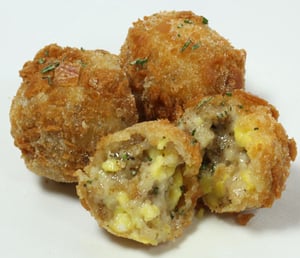 Let's face it: Small plates are a big deal. Quick, sharable and flavorful, they fill a need that traditional meals leave empty.
Given the dizzying pace of life these days, it seems to make sense that snackable bites and tasty tidbits would become the go-to favorites of our grab-and-go world. They're also a great way to feed the millennial market's appetite for culinary wanderlust and give young consumers the opportunity to sample a wide variety of flavor experiences. And portion control for the calorie-conscious—small plates have that covered. too.
Survey data from the market research firm Technomic reveals sizeable consumer demand for small plates, sides and desserts—and giving them a bigger presence on menus could lead to a higher check average and help drive off-peak traffic.
Thirty-five percent of consumers surveyed said they would be strongly likely to order appetizers or small plates as a midafternoon snack.1 Forty-three percent would like restaurants to offer more sides with new or unique ingredients or flavors1—a stat which reinforces the importance of culinary experimentation and menu innovation for a market hungry for taste adventures.1
For those with a taste for sharing culinary experiences, appetizers can hit the spot. Fifty-five percent of survey participants typically share appetizers with people who are dining with them.1
According to The State of Snacking: 2019 Global Consumer Snacking Trends Report by Mondelēz International and The Harris Poll, 53% of adults surveyed (66% of millennials) find their lifestyles more conducive to small bites enjoyed on the go than full meals.2
Millennial Snack Enthusiasts Are Big on Small and Shared Plates
Millennials are particularly interested in shared plates, according to Lilani Estacio, marketing and communications manager for the sea food products company Orca Bay Foods. "[Millennials] are really all about the experience, and that's why the shared plate is booming in the restaurant industry," she said. "It's a social experience for them, and they are active social media users as well."2
The fact that shared plates tend to be a thrifty way to try different tastes gives them added appeal for the millennial dining market. "Shared plates and small plates are a fun experience for [millennials] – it's low risk, they're trying different things without fully investing what you would be paying for a main entrée," Estacio pointed out.3
Proteins in small portions also pack a big punch. Consumers surveyed said they'd be likely to order a wide variety of protein-based appetizers or small plates. Spinach and artichoke dip topped the list along with meatballs (33%), followed by Buffalo wings (29%), pretzel bread/soft pretzels (27%), bruschetta (25%) and calamari (24%).1
Dessert Menu Innovation Helps Serve Up Better Margins
As the culmination to a meal, dessert is a small-plate whose presence is getting smaller on menus. But while dessert menus are shrinking as foodservice operators streamline their product offers to manage tight margins more efficiently, 41% of consumers surveyed report eating dessert after a meal at least once a week.4 With fewer items being offered for dessert, it becomes more important than ever to make sure dessert offerings reflect consumer preferences. Fruit-based desserts seem like a safe bet, given that 46% of consumers surveyed eat fruit for dessert a minimum of once weekly.5
Bret Yonke, Technomic's manager of consumer insights, reports: "As dessert menus continue to shrink, identifying an optimal product mix that can still maximize consumer satisfaction will be key. Moving forward, expect those who are truly looking to provide innovative dessert offerings to increasingly experiment with toppable beverages, such as milkshakes and hot chocolate, as well as spicy flavor profiles and dairy-free desserts that don't compromise on taste."4
Mondelēz International Foodservice offers operators soup-to-nuts culinary guidance and menu development. From snacks to desserts to sides and beyond, our chefs can elevate your menu with inventive on-trend dishes like our Sausage and egg breakfast bites made with RITZ crackers.
Give us a taste of your culinary needs below and we'll serve up custom solutions for your operation.
1 Technomic, Consumer Trend Reports: Starters, Small Plates & Sides Infographic, 2019
2 Mondelēz International and The Harris Poll, The State of Snacking: 2019 Global Consumer Snacking Trends Report, p. 8
3 Kearns, Madelyn, Small plates a big draw for millennials, Seafood Source, Feb. 7, 2018
4 Technomic, Shrinking dessert menus highlight the increased need to optimize the product mix, Technomic finds in new report, Oct. 3, 2019
5 Technomic, Consumer Trend Reports: Dessert Infographic, 2019