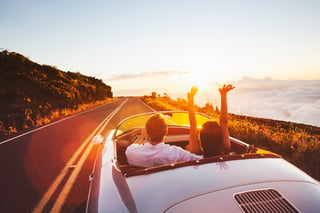 In "Reality Bites: Feeding the Millennial Myth," we explored the four core types of millennial snackers. But that just whetted our appetite for delving into the psyche of this coveted consumer base. Fact is, millennials are growing into adulthood and starting families of their own.
Foodservice operators, take note: Young millennial families are writing the next chapter in the snacking saga of this generation, so it's time we did our homework on them. In the U.S., there are 11.6 million millennial households with children – that's a lot of snacking opportunities on the table. Think about it: in the grocery aisle and at home, these parents are deciding what snacks their families eat,1 so this ever-growing group is consuming an increasing amount of the market. More mouths to feed means more snacks to buy.
As summer approaches, opportunities to market to millennial families are sure to heat up. As they transition from school lunches and quick bites between after-school activities to on-the-go snacks for road trips, camps and sports events, you can cater to their summer snacking whims:
Drive sales by making automobile-friendly snack options—like grab-and-go menu items and travel-size portions—available at pit stops on family road trips.
Help families cool off with seasonal shakes and smoothies.
Score points with parents and kids alike with a cover-all-bases array of snacks at concession stands.
Keep the standbys stocked but remember that millennials have a taste for innovative flavor profiles, unique options and transparent labels.
Finally, some things never change, so remember that snacking and saving go hand in hand for millennials as for previous generations. Coupons and two-for-one deals could be a determining factor in whether your summer snack sales fizzle or sizzle.
Have any hot ideas on how to market to millennials in the summer season? Share your thoughts below.
1 Fromm, Jeff, "Snacking Habits Of Millennial Parents Are Shaping The Category For Future Generations," Forbes, Sept. 9, 2015, http://www.forbes.com/sites/jefffromm/2015/09/09/snacking-habits-of-millennial-parents-are-shaping-the-category-for-future-generations/#bfc045463cbc