Posted in Millennials on April 21, 2016
Just when you think you have a handle on those mysterious millennial snackers, a new study pops up to show you they're more complicated than anyone imagined. Turns out the mythical millennial consumer isn't a unicorn after all, but a hydra-headed creature that foodservice operators need to wrap their own heads around.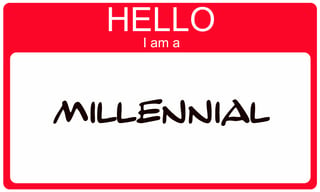 Looking to connect with millennials? Before you start tossing snacks at this sought-after demographic, it's wise to do a reality check. Conducted by Ipsos and Buzzfeed, the study, titled GenerationWhy, was released on March 1 during a webcast attended by food and beverage industry movers and shakers.1 The key takeaway is that instead of being a single monolith of consumers, millennials are divided into four distinctive types:1
Traditionalist Taylor, representing 37% of the millennial population, is the least likely to look at nutrition labels regularly and spends the least amount of time on social media. He's more concerned about how food tastes and what it costs than trying new dishes.
Bon Vivant Brittany accounts for 23% of millennials. As a younger millennial between the ages of 18 and 25, she's most likely to eat at restaurants and avoid specific foods and ingredients, and she has average social media usage.
Food Purist Paige, who along with others like her compose 19% of millennials, is the most likely to avoid specific foods and ingredients and spends an average amount of time on social media. She wants healthier options for her family, but taste is a higher priority.
Balance-Seeker Brad, 16% of the millennial population, is the most likely to read nutrition labels regularly, with family in mind. However, he looks at food holistically rather than avoiding specific ingredients.
So foodservice operators, beware: Lumping millennials together into one big group could leave you wondering why the unicorn continues to elude you. Keep in mind the distinguishable traits described in this post to tailor your snack offerings to each millennial segment. When it comes to reaching these influential young patrons, one size fits all is just a myth.
How do you try to attract millennials to your operation? Share your tips below.
1 "First-Of-Its-Kind Study Reveals Millennials Are Not All The Same," Automatic Merchandiser, Mar. 4, 2016, http://www.vendingmarketwatch.com/news/12178060/first-of-its-kind-study-reveals-millennials-are-not-all-the-same