As a perennial popular snack and ultra-versatile foodservice staple, cheese has such a universal presence it can easily be taken for granted, and yet its sales are nothing to turn your nose up at.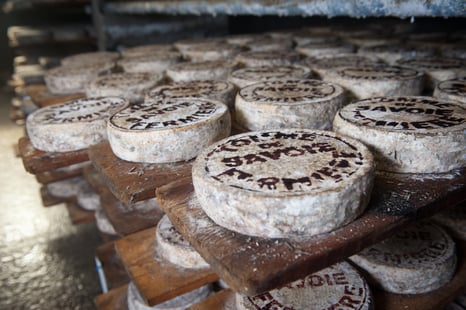 Last year, America produced a record-breaking 11.8 billion pounds of cheese.1 Not only is production up 29% over the last decade,1 but the worth of the global cheese market, estimated at $79.57 billion in 2012, is expected to reach $105.13 billion in 2019.2 Cheese is the dairy product that foodservice operators can count on to milk for sales. While Americans are drinking less milk than they have in decades—40% less than during the 1970s—they've nearly doubled their cheese consumption.3 At the forefront of that growth have been colby, jack cheeses, and cheddar cheese.3
But the big cheese of the category is mozzarella, which has outsold cheddar as America's favorite cheese variety for six consecutive years.3 Every American ate an average of 11.5 pounds of mozzarella last year alone.3 Driven partially by the demand for pizza, mozzarella is taking a big slice of the market's pie. Developments in mozzarella production are making it easier to meet demand, filling supermarket freezer cases with frozen cheese products like gourmet pizza.3 As John Newton, director of market intelligence at the American Farm Bureau Federation told CNBC: "Some of the bigger cheese companies have made mozzarella cheeses that can be frozen and reheated but still have the same stretch and feel."3
Prices Down, Popularity Up
According to Jerry Cessna, an economist at the United States Department of Agriculture (USDA), a factor in the increase for cheese consumption overall could be the recent glut in cheese of all varieties in the United States3. This endlessly expanding and spinning cheese wheel has driven down prices 10% from last year, making cheese as economically appealing as it is delicious.3
Cheese may also be benefiting from the better-for-you trend so popular with millennials. While some nutritionists say the high caloric and sodium content of processed cheeses stinks from a health perspective, cheese can also be nutrient-rich—high in calcium, protein, phosphorus and vitamins A and B12. For lactose-intolerant consumers, there are many cheeses, especially aged varieties like cheddar and Swiss, with little, if any, lactose.4
A Successful Foodservice Trend, Any Way You Cut It
Versatile, economical, nutritious—with so much going for cheese, no wonder it's a driver of menu innovation that makes an impression in a wide variety of iterations, from burger topping to chip and cracker flavor to artisan cheese plate. Given the sheer range of cheeses available, with its dazzling array of tastes and geographical origins, it can be hard keeping up with the cheese-driven foodservice trends. But the Wisconsin Milk Marketing Board (WMMB), which represents 9,500 dairy farm families in Wisconsin that produce more than six hundred varieties of cheese (25% of the world's cheese production),5 has identified these four key trends:
Cheese curds move beyond regional: WMMB's Vice President of Foodservice Allen Hendricks says that "the biggest thing we're seeing right now is the rise of the cheese curd, especially in national chains."5 Traditionally a Midwest food item also known as "squeaky cheese," curds are gaining popularity as a garnish, deep fried or as part of the Canadian dish poutine (a combo of French fries, cheese curds and gravy), and they're even making inroads at national fast-food chains.
Blue cheese and burgers: Smoked blue cheese is proving to be an especially popular flavor profile for burgers and cheese plates. Other natural cheese varieties are also challenging standard American cheese as the topping of choice for burgers. Provolone, havarti, and soft and crumbly cheese like Gorgonzola are popular topping options for higher-priced cheeseburgers marketed as gourmet menu items.


Snacks and spreads: To capitalize on the snack trend of smaller plates with greater variety, restaurants are stepping up their use of cheese spreads in appetizers and snacks. The shifting from staples like the traditional cream cheese-and-spinach dip to a wide variety of cheeses like Asiago or Parmesan raises hopes for a higher check average from customers.
Preparation and serving: Fried cheese appetizers and gourmet mac & cheese are enjoying a surge in popularity. "Like the cheeseburger," Hendricks points out, "mac and cheese is now a higher-end item. Restaurants are using gourmet cheese blends and adding garnishes like green chili, or meat and seafood like lobster or crab."5 These and other cheese trends may be a safe bet to help boost sales, but as with all menu items, how an offering is prepared and presented and whether it meets consumer demand are determining factors that all restaurant operations must keep in mind.
What cheese items put a smile on your customers' faces? Do you think more cheese could be the key to being a more profitable restaurant? Serve us a sampler of your thoughts below.
1 Wisconsin Milk Marketing Board, The US Produced a Record-Breaking 11.8 Billion Pounds of Cheese in 2015, 2016, www.americasdairyland.com/assets/images/statistics/CheeseProductionSnapshot.pdf
2 Transparency Market Research, Global Cheese Market—Industry Analysis, Size, Share, Growth, Trends and Forecast, 2013–2019, May 5, 2014
3 Fahey, Mark, Americans have an insatiable demand for pizza cheese, CNBC, Oct. 4, 2016, www.cnbc.com/2016/10/04/best-cheeses-americans-have-an-insatiable-demand-for-pizza-cheese.html
4 Dairy Council of California, Nutrients in Cheese, 2016, www.healthyeating.org/Milk-Dairy/Nutrients-in-Milk-Cheese-Yogurt/Nutrients-in-Cheese.aspx
5 Total Food Service, "Wisconsin Milk Marketing Board Dishes on Cheese Trends," August 2, 2016,
http://totalfood.com/wisconsin-milk-marketing-board-dishes-cheese-trends/