Posted in Trends on January 24, 2023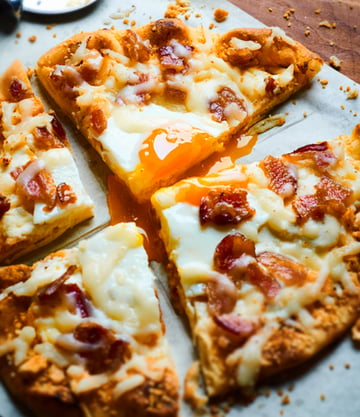 Pizza is having a moment. OK, it's always having a moment as a versatile staple that lends itself well to menu innovation. And because pizza delivery was a thing way before the pandemic, the category was ahead of the game when the outbreak hit.
But as we explored in our post, "Oh Dough They Didn't! Upstart Pizza Chains Cook Up New Recipes for Success," pizza is rising to new heights of culinary ingenuity as fledgeling restaurant concepts serve up fresh takes.
In their 2023 forecast, international food and restaurant consultants Baum+Whiteman cite the flatbread pizza variation Pinsa as a trending dish.1 "This flatbread comes from ancient Rome where the dough is 'pushed' into shape rather than tossed," they report.1 "It benefits from ultra-long fermentation…up to 72 hours…is heavily hydrated…and can be made with flours that never appear in pizza. Served in small ovals, it produces a much lighter, airier dough. Catching on among serious Italian restaurant chefs…and appearing on charcuterie boards."1
Baum+Whiteman note that mortadella, a deli meat that has gained popularity as "a signifier of sophistication and respectability," is trending as a pizza topping sprinkled with pistachios.1 Both mortadella and pistachio are called out in their report as trends to watch in 2023.1
Pizza even propels profits for chains that don't specialize in it or Italian cuisine. Think Panera's flatbread pizza series, which customers can customize and even bundle in Family Feast options.
Hot Trend: Pizza Meets Mexican to Spice Things Up
Taco Bell's Mexican Pizza has proven to be a kind of secret sauce for generating sales. Removed from the menu in September 2020 as Taco Bell trimmed its product line in response to the pandemic, the Mexican Pizza reemerged as a limited-time offer in May last year after fired-up fans turned to social media and petitioned for its return. Taco Bell enlisted Dolly Parton and hip-hop star Doja Cat to promote the LTO, which generated more than 20 million pizza sales and a 10% rise in loyalty membership for the second quarter.2
Taco Bell returned Mexican Pizza to the menu full time in September of 2022, and it helped to produce an 8% systemwide sales boost.2 Now the brand is testing two new pizza varieties: Cheesy Jalapeño Mexican Pizza and Triple Crunch Mexican Pizza.2
Meanwhile, another Mexican restaurant chain, Taco Cabana, closed out 2022 with the introduction of its own slice of the pizza category—the Double Crunch Pizza. Essentially a taco in the form of a pizza, the item is spicing up menus across 140 locations in Texas.
As Taco Cabana COO Ulyses Camacho explained: "Basically our research and development team, they've been working on a Double Crunch for quite some time. I would say they started working around when the pandemic started and it was until last year. And it was driven by our guest requests that we decided to start thinking about testing it and that's what we did probably about six months ago. We put them in a full-blown market test probably about six months ago."3 The brand arranged for the rollout to backed by "full-blown promotion, inclusive of social media, digital, TV and loyalty program," Camacho said.3
As specialists in menu innovation for every meal part, dessert and drink, the acclaimed chefs at Mondelēz Foodservice know how to make the most of pizza's possibilities. Crack open fresh ideas like our recipe for Breakfast Pizza made with RITZ Crackers, or hit the sweet spot with our Cherry Cheesecake Pizza made with OREO Cookies. Crave a broad range of inspirations and tips to elevate your menu? Dig into our Chef's Culinary Corner for Inspiration Guides, chef-favorite recipes and more. For custom menu solutions for your operation, just reach out below.
1 Baum+Whiteman, 12 Hottest Food and Beverage Trends in Restaurants and Hotels for 2023, December 12
2 Kelso, Alicia, "Taco Bell is testing two new Mexican Pizza variations," Nation's Restaurant News, December 16, 2022
3 Coley, Ben, "How Taco Cabana Arrived to the Pizza Category," QSR Magazine, December 16, 2022