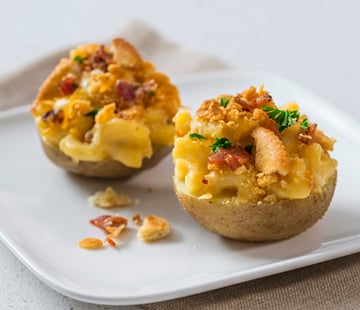 Comfort foods tend to be versatile, mash-up worthy staples that bring tastebuds bliss as quick bites, sides or entrees—and there may be none more beloved than macaroni and cheese.
Popularly known as mac
'
n
'
cheese or mac and cheese, this good-old go-to for perennially gratifying cheesy deliciousness can be relied on to serve up sales. In fact, according to the market research firm NPD/CREST, restaurant customers across America feasted on 836 million servings of
mac
'
n
'
cheese for the year-long period ending in August.
1
Quick and easy, mac 'n' cheese is a snackable delight, so it may come as no surprise that sales have spiked 5% over annual sales before the pandemic.1 Forty-five percent of consumers surveyed have found comfort and relief in snacking during the pandemic, according to the Mondelēz International State of Snacking Report.2 Forty-seven percent said they most likely to snack for comfort, closely followed by "to reward myself" (46%).2
Panera Bread Makes Loads of Dough with Macaroni and Cheese Menu Variety
Fast-casual powerhouse Panera Bread has been digging into mac 'n' cheese sales ever since the brand brought its scrumptiously rich signature version to market in 2006. Panera now sells a massive amount of mac 'n' cheese—approximately 50 million units every year.2 And that doesn't even include sales from its supermarket version, Panera at Home Mac & Cheese, introduced in 2013.2
Last year, the chain added to the menu what the lifestyle site Thrillist.com dubbed "the ultimate comfort food"3: the mouthwatering mashup of Panera's mac 'n' cheese with its equally popular broccoli and cheddar soup, served in a bread bowl.
"I'm obsessed with the flavor combination in our new broccoli cheddar mac 'n' cheese—it's an insanely craveable and irresistible creation that our customers are sure to love," said Claes Petersson, Panera's head chef and chief food and innovation officer.3

This fall, Panera has followed up the dish with another mashup concept: Its Grilled Mac & Cheese Sandwich—the brand's Mac & Cheese, enhanced with Parmesan crisps and served between toasted slices of white miche bread.
"We couldn't be more excited to bring our new Grilled Mac & Cheese Sandwich to market as the ultimate collaboration that our guests never knew they needed," said Petersson, Panera's head chef and chief food innovation officer. "When launching new menu items, we always aim to surprise, delight and satisfy our guests."4
Kraft Gets Crafty with Introduction of New Mac 'n' Cheese Flavors
Mac 'n' cheese innovation at retail also underscores the widespread appeal and sheer versatility of the dish. Renowned for its iconic cheese products, Kraft is introducing a mac 'n' cheese club that will let members be the first taste new flavors and receive limited-edition merchandise.
The Kraft FLVRS Club will help build buzz and tempt tastebuds before the brand's Flavor Boosts seasoning mixes (pizza, buffalo and ranch) roll out in limited editions next year. Consumers are invited to join the club at kraftflavrs.com and follow on social media for chances to win the new mac 'n' cheese flavors and merchandise.
As Maya McDonald, Kraft Heinz's marketing activation lead, explained: "We know die-hard fans of Kraft Macaroni & Cheese Dinner are always excited by new ways to enjoy a comforting bowl of our iconic mac 'n' cheese. The FLVRS Club is for those fans willing to expand their mac 'n' cheese horizons with these limited-edition packets that bring flavors we love to our favorite comfort food."5

Mac 'n' cheese innovations keep piling up as operators and retailers continue to iterate on the dish's endless possibilities. The DiGiorno frozen pizza brand plans to bring the Original Rising Crust Mac & Cheese Pizza to supermarkets in spring 2022. In the meantime, during the month of October, the brand promoted the chance to win one of these pizzas on its social media channels.5 How about mac 'n' cheese-flavored ice cream? A collaboration between Kraft and Van Leeuwen ice cream actually made this unlikeliest of mashups happen. (The initial run sold out in less than a day.)6
Mondelēz International Foodservice has the beloved brands and acclaimed chefs to help you make the most of mashup mania. Check out our culinary center for inventive concepts like our Mac 'n Cheese-Stuffed Potatoes made with RITZ Crackers. Need help creating signature dishes that standout and drive sales on-premises and off? Reach out below to learn about custom solutions for your operation.
1 Passy, Charles, Would you eat a mac n cheese sandwich? Panera Bread wants you to try one, MarketWatch, October 16, 2021
2 Mondelēz International, State of Snacking: 2020 Global Consumer Snacking Trends Study
3 Schaltegger, Megan, Panera Combined Broccoli and Cheddar Soup, Mac & Cheese for the Ultimate Comfort Food, Thrillist, September 16, 2021

4 Pomranz, Mike, "Kraft Is Starting a Mc & Cheese Club And Members Will Be the First to Taste New Flavors," October 19, 2021
5 Perchikoff, Sarah, DiGiorno introduces new mac and cheese pizza, Guilty Eats, October 2021
6 Hilu, Charles, "Mac and cheese ice cream sells out in less than a day," Washington Examiner, July 24, 2021