Posted in Millennials on December 18, 2018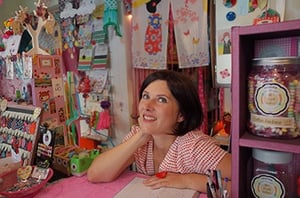 Snacking is taking up a commanding space at the table when it comes to food consumption. Survey data shows that snacking gobbles up 50% of all eating occasions,1 and one in four millennials snack four or more times a day.2
With 94% of Americans across generational cohorts snacking at least once a day, snacks have fed the greatest growth in the consumer packaged goods industry.
2
As the largest group of snackers in the U.S. and the generation more likely than any other to snack,
2
millennials are driving demand for ever-greater variety, novelty and innovation in the industry.
But with so many options already available, the need for low-risk differentiation becomes critical to avoid the perils of saturation.
Millennial Snack Market Hungry for Fresh Experiences
To feed the millennial appetite for food adventure and experimentation in a cost-effective way that mitigates risk, many brands have cultivated a taste for pop-up store concepts, as touched on in a previous post. As new and unusual presentations of specialty items with a limited-engagement, pop-ups offer Instagram-worthy experiences that can build brand buzz and whet the consumer's appetite for more.
In its Global Food and Drink Trends 2018, the market research firm Mintel cites last year's Boba Room exhibition in New York City as an example of the ingenuity nourishing the growth of the pop-up phenomenon.3 A series of neon-lit, balloon-filled rooms designed with huge gummy smiley faces, hearts and lollipops to simulate walking through cups of bubble tea, the Boba Room was a visual experience for the age of snaps shared on social media.
The online food publication Eater likened the Boba Room to New York City's Museum of Ice Cream pop-up extravaganza, which inspired a feeding frenzy of Instagram posts with its sprinkle-filled pool, ice-cream playground and art crafted out of creamy frozen treats.4
From mom and pop to pop-ups, snack shops have gone from same-old, same-old to ingeniously bold. Here is a trio of taste-tempting, irresistibly interactive and visually engaging concepts that are propelling the pop-up foodservice trend to new heights:
Candytopia: The self-proclaimed "outrageously interactive candy wonderland" features an array of rooms and installations that offer a feast of literal eye candy. Created by Hollywood Candy Queen Jackie Sorkin and master production designer Zac Hartog, this tour de force of tasty treats features flying unicorn pigs, a marshmallow tsunami, and many other elaborate confectionary creations. This summer, the Los Angeles run drew more than 150,000 people, including visits from Drew Barrymore and Gwyneth Paltrow.5
Cookie DŌ: New York City's edible cookie dough shop cool concept this summer was a nostalgic camp-themed pop-up shop in the trendy Soho section of town. Outside the shop, Adirondack chairs and tree stump tables piqued the curiosity of passers-by and set the stage for a camp-like experience. Decorated with a tire swing, mural wall, and a canoe, the inside reminded guests of their favorite camp activities. With names like The Campfire and The Chocolatey Blob, the dessert options were made to bring back sweet memories.
Nibble: The shop for up-and-coming and off-the-beaten-path snack innovations kicked off the year with a Boston pop-up that brought together an eclectic extravaganza of better-for-you snack options. From oat-based cereal cups to cinnamon quinoa bites, the concept leveraged the well-being snack trend. A tasting station highlighted new snacks, such as a chocolate-dipped almond or a spent grain breakfast bar. "We look around the country to find innovative snacks, and brands that [offer] a new take on snacking, and bring them all into one place," said founder Joyce Lee.5 "So, a lot of our brands are made by small food entrepreneurs."5
As a leader in snack innovations as well as a bastion of trusted brands, we have the culinary expertise and product portfolio to help you grow your Gen Z and millennial business. Reach out anytime for details on how we can help create a recipe for success for your foodservice operation.
1 Hanna, Brad; Nicholson, Chad; Huff, Skyler; Swartz Leah, The Snack Hack, FutureCast and Barkley, Feb. 2017, p. 4
2 Hanna, Brad; Nicholson, Chad; Huff, Skyler; Swartz Leah, The Snack Hack, FutureCast and Barkley, Feb. 2017, p. 3
3 Zegler, Jenny, Global Food and Drink Trends 2018, Mintel, 2018