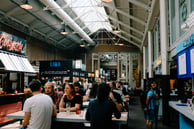 The foodservice industry has become a feeding frenzy of options and channels, with competition for share of stomach heating up and operators scrambling for ways to stand out. Emerging concepts are already making an impact, and their momentum puts them on track to transform the foodservice landscape.
Food trucks, food halls, ghost restaurants, micro markets and office pantries are among the most noteworthy of these concepts, with significant levels of familiarity among consumers, according to the foodservice research firm Technomic.1 While they may only comprise half of 1% of the total foodservice industry, their rapid rise and growing influence make them catalysts for change and springboards to menu innovation.1
"These emerging concepts are often the incubators for today's hottest foodservice trends and consumers have developed strong preferences for these formats," Technomic reports.1 Together, these concepts form the frontlines of innovation in the industry. As research from Technomic and others shows, each yields insight into significant shifts in the marketplace, particularly to accommodate the preferences and expectations of millennial and Gen Z consumers.
Food Trucks: 92% of consumers surveyed say that food trucks have become a mainstay, giving these mobile, curbside food vendors the greatest traction among the emerging concepts Technomic evaluated.1 What's more, 94% of food truck patrons purchase from them once a week or more.1 Eighty percent purchase sandwiches, followed by cold drinks (79%), hot entrées (60%) and snacks (46%).2 The food truck sector's annual 7.9% growth rate over the course of five years far exceeds the approximately 2% growth of the restaurant industry.3 With 14,000 workers across America, food trucks are one of the foodservice industry's fastest-growing segments.3
Food Halls: More than half of consumers surveyed are familiar with food halls. Patronage is highest among Gen Z (66%) and millennials (65%)4 who have gravitated to these sprawling spaces filled with on-trend arrays of local and global fare. A modern, urban spin on the traditional food court, food halls have quickly spread across the country from major urban hubs such as New York City, Miami, Denver, Las Vegas and Portland, Ore.5 Food hall pioneer Eataly, which focuses on Italian fare, has multiple locations in the U.S. and Italy. While food halls are most popular with young consumers, Gen Xers (55%), boomers (52%) and matures (57%) are also likely to visit them.4
Pantries: These foodservice formats in office settings serve as convenient on-site sources of free meal and snack solutions for company employees. A fixture at companies such as Amazon, Apple and Google, pantries are typically offered as an employee perk that provides quick access to grab-and-go food and beverages. Eighty-two percent of employees who use them patronize pantries once or more per week.6 Watch for pantries to increase their selection of superfoods and better-for-you snack boxes to help keep employees fueled throughout the day.
Micro Markets: The fast track for grab-and-go fare, micro markets are automated formats that allow consumers to self-serve and self-pay. Typically found in corporate, university and hospital settings, micro markets provide anytime access to a variety of easy meals and quick snacks. Consumers who use them purchase from them a minimum of once a week.7 Micro markets are primarily a destination for midday occasions: 61% of consumers surveyed are likely to order lunch items from them, followed by afternoon snack (40%).8
Ghost Restaurants: Delivery-only foodservice operations with no brick-and-mortar location for dine-in or takeaway, ghost restaurants appear to be morphing into "ghost kitchen" concepts that offer shared spaces for food prep. Los Angeles–based CloudKitchens, which promotes itself as "smart kitchens for delivery-only restaurants," is expanding rapidly, with openings planned for Chicago, New York City and San Francisco. Other concepts include delivery and pickup operation Kitchen United, which is expanding beyond its home base of Pasedena, Calif., to other major U.S. cities on the strength of a $10 million investment.9 It also seems likely that mobile kitchens such as Zume Pizza, which bakes pizzas in mobile ovens for extra-fresh-and-hot local delivery, will gain ground.
Whether you're engaged in one of these concepts or trying to stay ahead of the curve in a rapidly changing competitive environment, Mondelēz International has the culinary expertise and popular brands to help you boost business. Leave us a note below to learn about our customized solutions, and be sure to check out our Culinary Center for heaping helpings of ideas and inspiration.

1. Technomic, Planning Program Study Takeaways: Trends in Emerging Concepts, Jan. 2019, p. 1
2. Technomic, Planning Program: Emerging Concepts, Jan. 2019, p. 11
3. FoodTruckr, What Data Can Tell Us About the State of The Food Truck Industry, Sep. 24, 2017
4. Technomic, Planning Program: Emerging Concepts, Jan. 2019, p. 23
5. Technomic, Planning Program: Emerging Concepts, Jan. 2019, p. 24
6. Technomic, Planning Program: Emerging Concepts, Jan. 2019, p. 43
7. Technomic, Planning Program: Emerging Concepts, Jan. 2019, p. 48
8. Technomic, Planning Program: Emerging Concepts, Jan. 2019, p. 50
9. Technomic, Planning Program: Emerging Concepts, Jan. 2019, p. 37