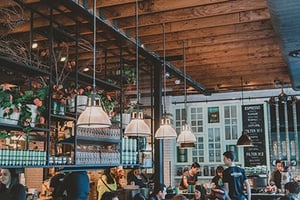 Ups and downs may be par for the course for independent restaurants, but now they seem to be happening simultaneously.
According to the NPD Group, a leading provider of industry analysis and advisory services, independent restaurants are expected to spend about $39 billion with foodservice manufacturers and broadline distributors this year—even though unit count dropped 3% in fall 2017 versus a year earlier.1
Despite the 10,052 decrease in units, the 345,105 independent restaurants that remained active accounted for upwards of half of the 647,288 commercial units in the U.S.1 The mere fact that independent restaurants—defined by the NPD Group as having one or two units—are increasing their spending may be an indication that their future is bright, regardless of the drop in unit count.
In the first quarter of this year, independent restaurants, which represent one-third of broadline foodservice distribution dollars, boosted purchases with top broadline distributors by 2% over the prior year.1 Cases ordered rose by 2% during that time as well.1
The topsy-turvy performance of independent restaurants seems to offer promise when viewed in the larger context of the restaurant business. Independent restaurants experienced a 1% decline in traffic in the first quarter of this year, when traffic at restaurant chains were flat.1 Yet for the year ending in March, restaurants received 60.5 billion visits from consumers, 13 billion of which were made to independent restaurants.1

Unit growth across the industry seemed to rise and fall like a soufflé last year. Chain restaurants increased by 982 units to 301,183.1 Units in the full-service category, which encompasses family, fine and casual dining, fell 2% to 294,167.1 Fast casual jumped to 25,118 total units—a 4% increase.1
Restaurants Bag Business in Grocery Stores
The enduring popularity of restaurants has even resulted in the rise of foodservice at retail—a phenomenon favored by young customers in particular.2 Restaurant formats and café concepts are encroaching on grocery store space, either in the form of a proprietary restaurant or third-party chain (think: a Starbucks in a Stop & Shop).
Nearly 20% of consumers surveyed expressed interest in more sit-down restaurants at groceries.2 In particular, consumers drawn to restaurants and prepared food at grocery stores are affluent young men with an interest in convenient meal options for their families.2
While the blurring of the line between grocery store and restaurant is innovative, they are more likely to be an extension of, rather than an alternative to, the traditional restaurant format. "And it's probably not likely that these in-store restaurants are going to replace traditional restaurants any time soon, either," said Amanda Topper, associate director of foodservice research at market research firm Mintel.2 "Thirty-eight percent of people say that going to a restaurant is just more fun for them."2
Digital Wizardry Whips Up a Promising Foodservice Future
Technological innovation has had a transformative impact on restaurant operations, and will continue to do so. Now that mobile ordering and pay-ahead technology are commonplace, it will be interesting to project what's next in foodservice tech.
The Tech Tracker series from Nation's Restaurant News chronicles the latest technological breakthroughs to appeal to the consumer's hunger for hyper-connected speed and convenience. The publication zeroed in on a few tech marvels that were unveiled at this year's National Restaurant Association show, including remote-controlled robot "busboys" and "servers," as well as an order pickup program that detects customers' mobile devices and lights up a cubby where they can claim their to-go order.
Learn about the many ways we at Mondelēz International Foodservice can help your operation overcome the challenges and leverage the opportunities of today's increasingly competitive and ever-shifting foodservice landscape.