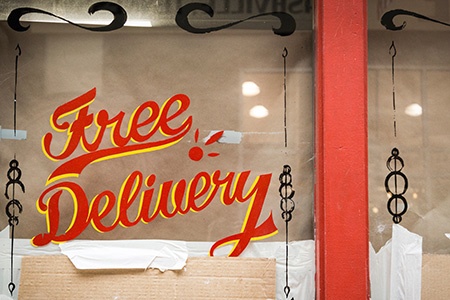 Consumer demand for convenience seems to be picking up more and more speed in the foodservice industry. According to Mintel's Foodservice Trends 2018, a quarter of consumers surveyed are dining out because they just don't have the time to cook at home.1 What's more, the shift away from traditional office environments to a remote workforce could help drive demand for all-day dining and delivery, especially with nearly one in 10 survey participants dining out to work remotely.2
The rise of app-enabled ordering, touchscreen kiosks and home delivery services feed the need for speed which the market research and analysis firm has identified as one of the top foodservice trends to watch for in 2018. Twenty-five percent of consumers surveyed hunger for restaurant apps that allow them to order, and one in eight say that self-service kiosks are an incentive to patronize fast casuals more often.3
Mintel predicts that demand for "good food fast" will accelerate as mobile ordering and delivery continues to improve and consumers become increasingly dependent upon it as a convenience in their busy lives.4 As diners find themselves strapped for time, the importance of convenience looms large, compelling restaurant operators to leverage technological advances that expedite food ordering, preparation and delivery.
Demographic Shifts Help Drive Foodservice Delivery
The NPD Group, a leading provider of industry analysis and advisory services, reports that female consumers, whose growth rate in the workforce is rising faster than that of men, will be especially time-strapped.5 Women are projected to occupy 47.2% of the workforce and grow to 77.2 million strong by 2024.5 The rising number of working women is expected to contribute to the urgency for greater convenience, according to NPD analyst Bonnie Riggs. "It's going to drive traffic for certain venues," Riggs said, "meeting this convenience need, especially at dinnertime."5
The less time consumers have for making food at home, the more likely they are to rely on delivery, which technology is simplifying. According to NPD Group data, digital ordering now accounts for 53% of all delivery orders, compared to 33% in 2013.5 As Bob O'Brien, NPD Group's global senior vice president, explained: "If the chief benefit of foodservice is convenience, then enhancing it through technology can only improve its value proposition to customers and the economy!"6
Delivering a Quick Slice of the Market Pie
In the quest to take automated convenience to the next level, a major pizza restaurant chain has partnered with Toyota to develop self-driving delivery cars.6 Toyota unveiled a self-driving concept vehicle called the e-Palette in January at the Consumer Electronics Show (CES) in Las Vegas. The chain may use the vehicle, which Toyota intends to test as early as 2020, to not only deliver but cook pizzas in transit. The companies plan to gather data from the chain's delivery vehicles this year to help ensure the self-driving delivery truck operates with optimal efficiency and safety.7
Part of a broader partnership called the "mobility service business alliance," including Uber, Amazon, Didi and Mazda, the e-Palette is a prototype, among other innovations to be developed for the delivery of goods and services.7 "It's really about thinking about mobility in the future," said Sherhara Downing, a product specialist at Toyota. "We all see it happening right now where everything is getting delivered to us, so now how does technology play a role in actual delivery for human services?"8
How can your foodservice operation pull ahead in the fast lane of digitized and automated customer service? Deliver a few thoughts below, and remember we're always happy to bring you up to speed on how our brands can help accelerate sales.
1 Topper, Amanda, Foodservice Trends 2018, Mintel (2017), at p.12