Posted in Desserts on March 31, 2020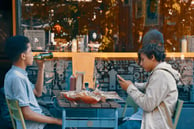 Millennials may be giving operators the most food for thought when it comes to adapting to the shifting foodservice landscape, but Gen Z is poised to bite off more and more market share. Born between 1995 and 2012, the Gen Z population is projected to reach a peak life stage for restaurant patronage by 2024.1
In fact, the newbie generation has already begun to sink its teeth into foodservice and show an avid interest in dining out, according to the NPD Group, a market research and advisory firm. NPD reports that Gen Zers made a staggering 11 billion restaurant visits during the 12-month period ended July 2019 and now account for nearly a quarter of all restaurant traffic.
2
The most active users of fast-casual restaurants, Gen Zers have the potential to boost onsite traffic as they mature into adulthood, reversing a trend set by millennials and boomers, who are increasingly eating at home.2 As NPD Vice President and Food Industry Analyst David Portalatin explained: "Gen Z represents a lot of hope for the restaurant industry. They are more important to the foodservice industry than other users. [They] are using restaurants at a rate that previous generations did not."
NPD research revealed that food is a focal point in the social lives of Gen Zers—both in their in-person get-togethers and on social media, where they enthusiastically post about foods that interest them.2 As a result, foodservice operators may want to take a more holistic approach to the dining experience, making sure the onsite aspects are buzzworthy with offerings that are visually engaging enough to be posted.
Beyond the Millennial Dining Market: Menu Innovation and More
Like millennials, Gen Zers demand authenticity, which for them encompasses an honest brand experience as well as fresh, better-for-you foods with bold, diverse flavor profiles.2 More diverse and digitally oriented than millennials, "Gen Zs differ is their use of technology in all aspects of their life and their diverse, sophisticated palates," said Portalatin. Gen Zers are also more likely to use restaurant tablets and order kiosks,3 making such digital amenities especially important to help the flow of Gen Z traffic onsite.
Gen Z's passion for living digitally is underscored by a 35% boost in text, mobile and Internet orders and a 22% bump in digital orders for delivery.3 As avid smartphone users, Gen Zers have a wealth of information in the palm of their hands and can explore new cuisines and dining experiences with a few taps, making the need for culinary and brand authenticity that much greater.
Michael Wu, CEO and co-founder of fast-casual chain Pokeworks, agrees: "Generation Z is digital-savvy and socially conscious. They are info-hungry and crave for brands to be inclusive, proactive, and transparent." Pokeworks' poke bowls offer the authenticity of sustainable, seasonal ingredients and the build-your-own flexibility that Gen Z consumers demand.2
What's more, as the most diverse generation of Americans to date, Gen Z's culinary expectations are influenced by their rich ethnic backgrounds. Foodservice operators now have the opportunity to tailor menu innovation to Gen Z's diverse taste preferences.
Reach out below to learn how the chefs at Mondelēz International Foodservice can custom-create culinary concepts to help your foodservice operation drive Gen Z traffic. We'll help you develop a menu to meet the needs and expectations of this rapidly emerging cohort, from A to Z.
1 Glazer, Fern, "Millennials projected to increase at-home meals," Nation's Restaurant News, Oct. 11, 2019
2 Glazer, Fern, "Gen Z key to traffic growth as older consumers cut back," Nation's Restaurant News, Sept. 5, 2019
3 Fantozzi, Joanna, "Generation Z now makes up 10% of all foodservice traffic," Restaurant Hospitality, March 28, 2019