Posted in Technology on March 17, 2020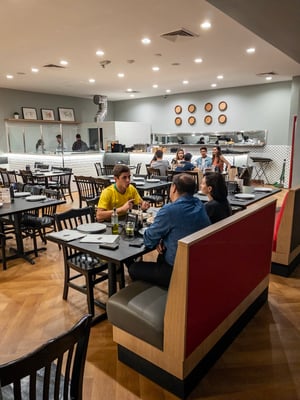 Restaurant operations always seem to be serving up generous helpings of menu innovation as they dig deeper into a market hungry for bold flavor profiles and new taste experiences. Add wellness, local sourcing and sustainability trends to the mix and you have a robust recipe for culinary ingenuity that can help feed the consumer appetite for a more holistic foodservice approach across segments.
Not to be outdone, non-commercial operators are elevating their menus to reflect trending tastes and preferences. Last spring,
Foodservice Director,
a news and information publication for the non-commercial segment, unveiled a smorgasbord of restaurant trends that noncommercial chefs are integrating into their menus. The trends were identified by
Foodservice Director
's Culinary Council, a group of esteemed non-commercial chefs brought together to explore trending menu concepts and operational strategies.
Non-commercial Foodservice Operations Step Up to the Plate
Organic and locally sourced produce is a trend that has crossed over from commercial to noncommercial, according to Corey Dalton, executive chef for the MD Anderson Cancer Center in Houston.1 Ethnic cuisine encouraged by the diversity of the city, the most multicultural in Texas, is also finding its way onto his menu: "Asian-inspired dishes, predominantly Chinese or Indian," he says.1
International dishes not only reflect diversity but connect people across cultures. Mondelēz International's State of Snacking Report determined that food can be a powerful cultural connector, with nearly 80% of consumers surveyed agreeing, "Food is our one true universal love language around the world."2
In addition, Dalton finds his operation is "infusing fresh herbs into our recipes to increase natural oils" and leveraging "seasonal menu inserts that change often to offer more variety to our longer stays."1
At the University of California, Santa Barbara, Senior Executive Chef Dusty Cooper says that while international culinary inspirations are trending, making dishes with local or organic ingredients is important. "Our dining commons are consistently purchasing 55% or more of their produce local or organic (or both)," he says. "It just makes sense to showcase what's grown down the road from our campus."3
Carrie Anderson, administrative executive chef for residential dining at the University of Illinois at Urbana-Champaign in Champaign, Ill., cited the specialty sweets trend as particularly relevant to her operation. She draws inspiration from specialty donut and pie concepts found in food trucks and eat-in establishments in the local community. "Customization seems to be key for the doughnut business," she says, "and nods to nostalgia and local ingredients seem to be the driving force behind the pie business."4
Anderson's point about nostalgia is also supported by data from Mondelēz International's State of Snacking Report, which found that 3 in 4 consumers surveyed say that sharing a snack with their parents is a treasured childhood memory and that enjoying these nostalgic favorites brings back happy times.2
For a feast of complimentary recipes that combine on-trend ingenuity with tried-and-true brand ingredients, be sure to browse our Culinary Center. For information on how our expert chefs can craft concepts to elevate your operation's menu, whether commercial or non-commercial, leave us a note below.
1 FSD Staff, "9 restaurant trends noncommercial chefs are bringing on board," Foodservice Director, Apr. 8, 2019, p.1.

2 Mondelēz International and The Harris Poll, State of Snacking: 2019 Global Consumer Snacking Trends Study, 2019, p. 11. Downloadable here
3 FSD Staff, p. 3.
4 FSD Staff, p. 2