Posted in Millennials on December 4, 2017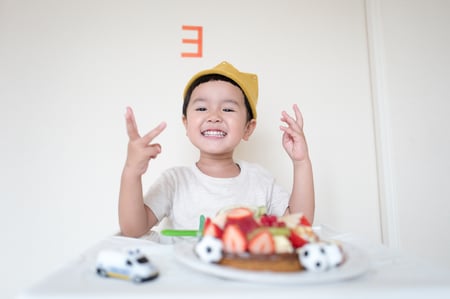 Once upon a time, before snacking became a daily activity for 94% of Americans surveyed1 and a convenient meal replacement for on-the-go millennials,2 the snacking landscape seemed populated predominantly by little kids with big appetites for tide-you-over treats. With so much attention focused on millennials and their transformative impact on the foodservice industry, we can lose sight of the fact that kids still help drive snack sales and foodservice trends.
As survey results from the market research firm Packaged Facts show, children's influence on food and beverage categories is pervasive. When it comes to food purchases, parents gladly splurge on their kids. Weekly spending on groceries in approximately 43% of households with children exceeds $150.3 Only 16.1% of households without kids match that amount.3 While cold cereal topped 21 different food and beverage categories as a favorite among children, fruit snacks are the volume leader.3 40% of fruit snacks are consumed by kids in households with children.3
Kids Know Better: Differentiating Better-for-You Snacks
The popularity of fruit snacks should come as no surprise, given the millennial emphasis on better-for-you options. Nutrition is a leading factor that parents take into consideration when deciding which groceries to purchase for their children. In fact, 46% cite nutritional value as their top priority.3 Now that 42% of all households are led by millennial parents, the food and beverage market is being shaped by a new wave of consumers composed of millennials and their children.3
Millennial moms in a national study buy more better-for-you snacks per month than any other generation, with 21% buying three new wellness types of snacks in one month compared to 14% of Gen X moms.4 Millennials are educating their children about wellness-oriented eating habits, with 69% of millennial moms asserting that their kids can differentiate between nutritious snacks and less wholesome items, and 55% saying their kids are likely to favor better-for-you options.4 As a result, the stage is set for the continued growth of clean label and well-being foodservice trends.
Foodservice operators should consider product assortments from trusted brands that appeal to both parents and their children. Keep in mind that while parents may gravitate to snacks that reflect their preference for wellness-oriented food choices, they also want their children to enjoy their snacks and meals. Since children are not likely to eat items that have high nutritional content but lack satisfying flavor, parents are not likely to buy them.
Other determining factors in parents' purchasing behavior when it comes to food and beverages for their kids include convenience, pricing, packaging and the flexibility to use items for various eating occasions.3
Raising Kids, Boosting Business
Thanks to parental influence, lifelong eating patterns and brand loyalty tend to be established in early childhood.4 As David Sprinkle, research director for Packaged Facts, put it: "It's the circle of retail life. Child demands product, parent learns about product through child, household begins using product, child ideally grows up to encourage his or her own household to use said product—at least until their own kids start making requests."5
When developing menu innovation to help drive a higher check average in the children's snack market, foodservice and restaurant operators should take 3 megatrends into consideration:5
Generational influence: Expected to represent an even larger segment of the parent population in years to come, millennial moms and dads are setting expectations and dietary habits for the next generation of snackers.
The importance of ethnicity: With 50% of Hispanic households having children living in the home, followed by 44% of African-American households and 40% of Asian households, foodservice and restaurant operators need to be culturally aware to tailor product selections to these growing core demographics.


Nutrition expectations: The rising prevalence of obesity is helping to increase emphasis on clean, local and organic options, as well as the inclusion of fruit and vegetable servings into a broad spectrum of kid favorites, from pastas, pizzas and bread to smoothies and desserts.
Trusted snack brands that offer satisfying perennial favorites, an international range of flavor profiles and better-for-you options can help boost business. Share your thoughts on the kids' snack market below and find out how we can help you drive big purchases made on behalf of the littlest snackers.