Posted in Millennials on January 28, 2020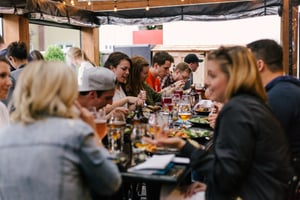 Foodservice is constantly evolving, and each year brings a fresh set of forecasts for what's new and what's next. The stakes are high as operators strive to overcome challenges and maximize opportunities.
One thing is for sure: there's a lot of money on the table. For decades, the restaurant sector, for example, has feasted on robust growth, ballooning from $120 billion in sales in 1980 to $239 billion in 1990 to an estimated $863 billion in 2019 (equal to 4 percent of the U.S. gross domestic product).1
No wonder each year serves up a feeding frenzy of culinary predictions and market prognostications. But while industry shifts and surprises often seem scattered, the research firm Technomic has determined that "everything is connected" is the foodservice industry's central theme for the new year.2
Technomic found "common threads of connection" among the core trends it forecasts for 2020.2 High demand for better-for-you options and flavor innovation are compelling operators to opt for sustainably produced ingredients and the need for greater waste reduction.2 These factors tie into margin considerations such as rising labor costs and consumer price sensitivity.
Surging Sustainability and More: A Lot for Foodservice Operations to Chew On
Technomic named each of the key trends it expects to have a major impact in 2020. "Eco Everything," Technomic's name for the sustainability trend, looms large for the future of foodservice. "Sustainability is more than a menu initiative," wrote Aimee Harvey, managing editor for Technomic. "It's emerging as part of the foodservice industry's new circular economy, evolving from a linear approach of create-use-recycle to create-use-reuse-sustain."2
From reusable cup programs to compostable packaging to innovative ways to eliminate waste from leftovers, look for the industry to adopt a wider range of sustainability practices. (To learn how Mondelēz International plans to promote sustainability in the new year, see From Farm & Field to You: Our 2020 Sustainability Goals In Action.)
A logical extension of the sustainability movement, "New Forces of Nature," as Technomic dubbed the trend, foresees operators looking to incorporating parts of plants like beet greens and sweet potato leaves into recipes as a way to reduce waste. Watch for seaweed and sea beans to find their way into more dishes and drinks, and expect more forms (oat, fruit and vegetable varieties) to become popular.
In keeping with the "Locking into Life Stages" trend, operators are likely to delve deeper into generational demographics to tailor offers for key subgroups entering new stages in their lives. With 80% of millennials poised to become parents within the next six years and approximately 10,000 baby boomers retiring daily,2 operators will need to address the changing needs of these and other evolving generational cohorts.
What's more, while delivery has made inroads as a new source of revenue for many chains, operators will need to redouble their efforts to jumpstart in-store traffic. Expect the "Offsetting Off-Premise" trend to drive the development of creative ways to steer more customers on premises. Technomic sees operators leveraging over-the-top limited-time offers, dine-in-only, buy-one-get-one meals and loyalty-based subscription program rewards to bring more customers through the doors.
While 78% of operators surveyed consider growing off-premise business a strategic priority,2 2020 seems to be the year when operators will turn their attention to achieving more of a balance between off-site and onsite sales.
Other trends to watch include fads that are so over-the-top and unusual (think Asian cheese tea and CBD-infused desserts) they generate huge buzz on social media and boost sales.
Want to stay on top of the trends and a step ahead of the competition? Contact us below to learn how you can put the trusted brands and culinary innovations of Mondelēz International Foodservice to work for you in 2020 and beyond.
1 National Restaurant Association, 2019 Restaurant Industry Factbook
2 Harvey, Aimee, Technomic's Take: 7 Hot Trends to Watch for 2020, Technomic, Oct. 24, 2019