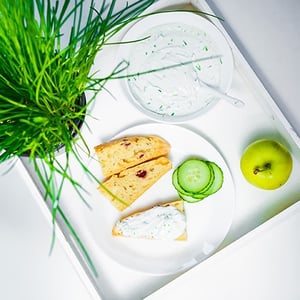 As the grab-and-go foodservice trend continues to take hold of busy millennials, the definition of snacking seems to shift further from between-meal treat to convenient meal replacement. Recent survey results show that 92% of millennials eat snacks as meals at least once a week, 50% four times a week and 26% a minimum of seven times a week.1
With close to 40% of millennial survey participants saying a sit-down meal is too time-consuming and 17% "can't be bothered to cook a meal," speed and convenience are key reasons for the snack-as-meal-substitute phenomenon.1 Snacks present a low-cost, smaller portioned food solution that fits their active lifestyles. Nearly half rank convenience as the most important factor in choosing a snack.2
The Snackification of Menu Innovation
As Forbes reported, despite their upsurge in snacking, which is driving the consumer packaged goods food category to new heights, millennials exercise caution when it comes to their snack selection, gravitating toward snack products that are better for self, society and planet.3
Whole grains (42%) and real fruit (43%) tend to be preferred snack ingredients.2 Better-for-you snacks that are light and energizing tend to be favored in the early daypart, whereas heavier sweet and savory options are sought after later in the day.2
The trend of American millennials opting for more wholesome snacks over full meals may not be as simple and straightforward as it seems at first glance. While 52% cite health and nutrition as the most important factor in choosing a snack, 80% consider taste the top priority.2 As a result, taste, nutrition and convenience are the trending trio that seems to top the list of must-haves for the millennial snack market.
As David Portalatin, vice president of industry analysis for the global research and advisory consultancy NPD Group, explained: "Although consumers are not adding new snacking occasions to the day, there is a shift in what's eaten at main meals and how snacking is viewed. Consumers today expect snacks to work for them; the snack is no longer just a reward."4
Snack Solutions Can Help Crunch Lunch Numbers
According to NPD Group, there are 12 billion snack visits made to restaurants and other foodservice operations, and lunch is the away-from-home meal most often replaced with a snack.4 The firm's survey data shows that while most snacks are still eaten between meals, "snackified" meal substitutes account for about a quarter of snack consumption—up from 21% five years ago.4 Forty-eight percent of snack visits to foodservice providers happen during the lunch daypart, compared to 23% for morning and 30% for evening.4 Since lunch tends to be a short break at the height of the consumer's busy day, it makes sense that quick snacks would be a go-to food for this daypart.
NPD Group projects annual per capita consumption of snack foods as main meals will grow 12% by 2024 as Gen Zers and millennials mature and continue to drive demand for snacks-as-meal-replacements.4 Darren Seifer, a market research analyst for NPD Group told CBS News New York: "We're actually seeing some generational shifts that are driving this change. In particular, everyone under the age of 40 today is consuming snack foods at main meals more often."4
Desserts are also derailing the traditional sit-down meal, and they're on track as meal replacements, according to the global foodservice market research firm Technomic.5 Female survey participants showed particular interest in replacing meals with nutritious desserts like smoothies; men tended to favor "more indulgent" options like cake and doughnuts."5 Fruit seems to have equal appeal for women and men, with a quarter of women surveyed and slightly more men agreeing that fruit is a good meal replacement.5
How are you accommodating the need for snackified meal replacements that satisfy the millennial need for flavor, nutrition and convenience? Care to learn how our popular brands can help drive foot traffic across dayparts? Give us a quick sound bite below.
5 Technomic, Dessert Consumer Trends Report, 2017, p. 88