Posted in Promotions on July 11, 2016
As summer heats up across the country, it's no surprise that consumers often choose to cool off with frosty and frothy blended beverages. Making it the perfect time to promote milkshakes in your operation.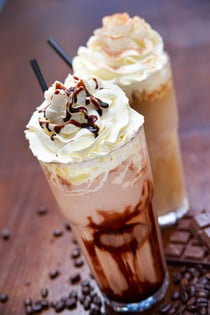 As 43% of consumers say they seek out frozen beverages on warm weather days,1 it's time to take stock of your offerings and make sure you have the right mix of flavors and size options to entice the milkshake-seeking masses.
1. Feature Top Flavors
Chocolate, vanilla, strawberry, banana and OREO cookies1. In that order. So make sure you focus on these in-demand flavors for your permanent menu. Want to attract even more consumers? Create LTO and specialty shakes that build on these classic flavors. Maybe it's a shake that pays homage to the flavors of another classic dessert like banana splits or strawberry shortcake. Really anything goes when it comes to satisfying milkshake mania.
2. Milkshakes Move Beyond Dessert
While it's true 54% of consumers order milkshakes for dessert1, 41% say they order one as a snack2. Focus on fast-growing flavors such as chocolate chip, chocolate peanut butter, peanut butter, caramel, and vanilla bean (also in order of popularity)1 to keep the all day orders coming in for an anytime treat.
3. One Size Does NOT Fit All
Not everyone wants a full-size milkshake. Consumers who prefer just a taste of a cool and creamy shake may gravitate toward mini-milkshakes—which are in high-demand3. Menu your own versions of small shakes to keep pace with larger chains that are already adopting this downsizing trend.3
With summer in full swing, make sure you bring your milkshake A-game to ensure consumers come back through Labor Day and beyond.
How do you plan to menu milkshakes this summer? Tell us below.
1. Technomic, Milkshake: MenuMonitor, May 31, 2016
2. Sloan, A. Elizabeth, "The Top 10 Food Trends," IFT, April 2015
3. Pendrill, Katherine, "The New Mini Chillattas From Cinnabon Give Consumers More Size Options," Trend Hunter, April 26, 2016