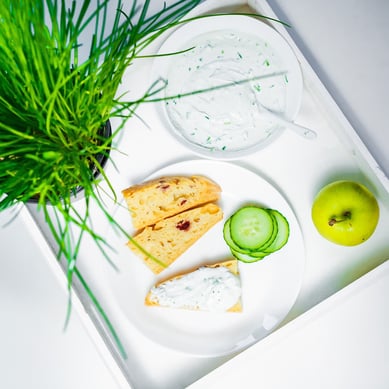 What could possibly be better than better-for-you foods? Superfoods have taken the better-for-you foodservice trend driven by millennial demand to new heights. The market growth of these nutrient-rich "wonder" items provides some juicy food for thought for operators and manufacturers.
Market research and analytics firm Mintel reports that the popularity of these foods, often marketed as aids in sustaining wellness and fending off illness, has been surging at a superhuman rate. Between 2011 and 2015, there was a 202% global jump in the number of food and beverage product launches with the terms "superfood," "superfruit" and "supergrain."1 2015 alone saw a 36% increase in new products with a "superfood" designation.1
That same year, strong consumer demand for highly nutritious products proved consistent globally, with the US in the lead for most superfood and superdrink launches (30%), followed by Australia (10%), Germany (7%), the UK (6%) and Canada (6%).1 What's more, over 70% of consumers surveyed in France, Germany, Italy and Spain expressed a preference for the wellness-promoting benefits of natural foods like fruit and vegetables over the added benefits of functional foods.1
Superfood Snack Trends
According to the foodservice research firm Technomic, trending items include açai and pitaya bowls, which feature a superfood-smoothie mixture topped with seeds, fresh fruit and nut butter. Other wellness items muscling their way onto indie snack menus include smoothie upgrades such as hemp protein and red maca. Fancy toast (e.g., avocado and cayenne) and nutrient-infused coffee are also powering the superfood trend.2
Technomic anticipates that these items will appear on Top 500 menus, while emerging superfood-snack concepts stand poised to join Top 500 ranks.2 Though new generation superfood snacks are often pricey, chains are likely to simplify them with more cost-effective ingredient choices, such as bananas, strawberries and granola for açai.2
Among the most popular superfoods are ancient grains. "Desire for healthier, less refined alternatives to wheat has fueled the rediscovery of ancient grains," said Stephanie Mattucci, a global food science analyst at Mintel. "Flavorful and nutrient-dense ancient grains have begun to change the negative perception of some carbohydrates by leveraging their nutritional profile and rich heritage. Ancient grains offer an alternative to wheat but also come bundled with functional and nutritional components, and provide new flavors and textures. They are a great way for free-from products to talk about health."1
Going with the Grain
Fueled by the wheat-free foodservice trend, the popularity of "supergrains" ancient grains has grown considerably. Between 2014 and 2015, food and drink product launches containing quinoa rose by 27% and teff by 31%. Chia saw the greatest growth, with a 70% increase in the percentage of products containing the super-popular grain.3
Survey results also show strong consumer interest in ancient grains. 30% of UK pasta consumers believe that pasta made with ancient grains like quinoa is better for you than regular pasta, while two in five US consumers (41%) have eaten ancient grain-based cereals.3
While the definition of "superfood" may be evolving, one thing is certain: the idea of optimally wholesome food is gaining ground fast. As Mintel's Mattucci said, "The popularity of 'super' products is clear as food and drink manufacturers globally are tapping into a demand for these nutritionally dense ingredients." And as millennials age and become more wellness-conscious, America's largest and most snack-hungry demographic is all the more likely to seek out superfood alternatives.
Do you think superfoods can come to the rescue of sagging sales? Have they helped power a higher check average at your foodservice operation?
2 Technomic, The Snacking Occasion Consumer Trend Report, 2016