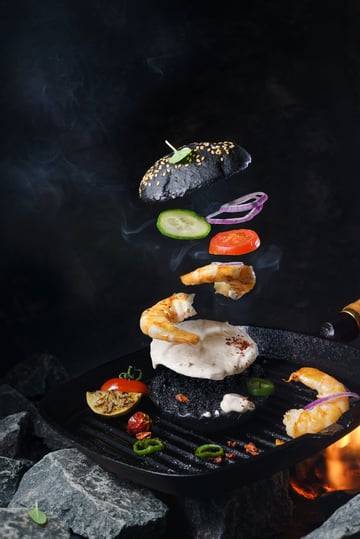 Consumers favor flavor when it comes to menu attributes—and that applies to both limited-service and full-service restaurants and across generations, according to survey data from the market research firm Technomic. Overall, consumers rank "appealing taste and flavor" the top traffic driver for LSRs (60%) and FSRs (64%).1
New and unique food also rank high on the list of menu must-haves. Nearly 40% consider it an important factor when choosing an LSR, and for FSRs that stat rises to 46%.1 What's more, unique limited-time offers loom large as an incentive to draw customers to restaurants that they typically wouldn't visit. Thirty-four percent of consumers surveyed would likely try a fast-food restaurant with a unique LTO—37% for fast casual.2
Last year, Technomic cited the Mexican-inspired breakfast Bagelrito from Einstein Bros. Bakery and KFC's Fried Chicken and Donuts Big Basket as menu items that potential purchasers rated unique or very unique (78% for the Bagelrito, 75% for the Big Basket).2
A Feast from the East: McDonald's Satisfies Appetite for Spicy Burger Varieties in Asia
This year the trend of unusual and unexpected culinary combinations and mouthwatering mashups continued. In October, McDonald's Japan introduced the Spicy Double Cheese Rice Burger, an extra-spicy addition to its seasonal rice burger lineup, hot on the heels of the Delicious Spicy Shrimp Rice Burger that made sales sizzle in September.
Instead of buns, both burgers are sandwiched between rice patties. The Delicious Spicy Shrimp Burger features a fried shrimp cutlet patty slathered with a garlic and Japanese red pepper sauce. The Spicy Double Cheese Rice Burger offers two all-beef patties, habanero chili-powdered cheese slices, and habanero chile pepper slices. The burger is so spicy, McDonald's Japan is asking customers to "please be cautious" of the scorching spice level.3
Meanwhile, McDonald's Korea has introduced another LTO loaded with kick. Available from October 29 to November 24, the Spicy Mac and Cheese Burger features a fried chicken breast patty topped with lettuce, mayonnaise and mounds of cayenne pepper-infused macaroni and cheese—all packed between the brand's signature sesame seed bun.
Panda Express Has Quick Success with Flavorful Vegan Alternative
Back in America, Panda Express, the Rosemead, California-based fast-casual Chinese restaurant chain, has expanded the test launch of its plant-based orange chicken to 70 more locations across 10 states.4 The initial test run sold 1,300 pounds of Beyond The Original Orange Chicken in one day.4. The vegan alternative boasts the same texture and flavor as the chicken meat original, with the sweet heat of the same tangy sauce.
"We're excited to expand BTOOC to 10 states across the US as we work to increase accessibility to plant-based options at consumers' favorite restaurants," said Deanna Jurgens, chief growth officer at the plant-based alternative protein manufacturer Beyond Meat. "We're proud to be Panda's trusted partner in re-envisioning their iconic, best-selling dish and are confident that BTOOC will continue delighting fans who are seeking great-tasting and sustainable protein options." 4
While not a new flavor profile, the success of Panda Express's plant-based orange chicken alternative underscores the appeal of vegan varieties that retain the taste of the original.
At Mondelēz International Foodservice, we specialize in elevating menus with inspired ideas and creative concepts that cater to growing demand for innovative flavors and formats. Be sure to browse our Culinary Center for inventive, flavorful recipes like our Latin-Style Crab Cake Sandwich with PREMIUM Saltines. For custom menu solutions to meet your operation's needs, give us a taste of what you're looking for with a brief message below.
1 Generational Consumer Trend Reports, Technomic, 2020
2 Future of LSR: Fast Food & Fast Casual Consumer Trend Reports, Technomic, 2020
3 Baseel, Casey, "McDonald's Japan asks that you please be careful with its new extra spicy rice burger," SoraNews24.com, October 27, 2021
4 Starostinetskaya, Anna, "Panda Express Expands Vegan Orange Chicken to 70 Locations. Here's Where to Get It," Veg News, October 27, 2021