Posted in Millennials on January 23, 2017
Consumers are cocoa loco, especially at this time of year. There's nothing like hot cocoa to give you a warm and fuzzy feeling on cold winter days, when foodservice operators cozy up to it as a reliable seller. It's the quintessential winter beverage, a popular seasonal staple for consumers of all ages. But while hot cocoa and hot chocolate are often considered one and the same, their flavor profiles can vary.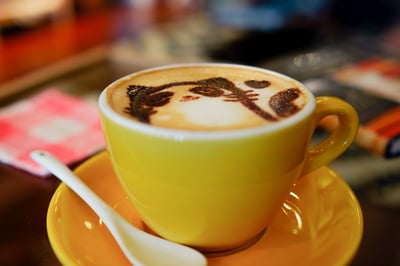 Made of cocoa powder, sugar and milk, hot cocoa tends to be light and sweet in body, and often contains flavoring like vanilla or spices such as ground cinnamon. Hot chocolate, purists may contend, tends to be richer, thicker and less sweet than hot cocoa, and consists of chopped or finely shaved chocolate that melts quickly when combined with hot water, milk or cream.
As a satisfying treat with a consistency that can be pudding-like, hot chocolate seems well suited to be a millennial snack favorite during the winter months. As a syrup blended with seasonal flavor mixtures, it has blurred the line with hot cocoa and given rise to a seemingly endless array of gourmet varieties, specialty drinks and handcrafted concoctions at major coffee chains.
No Powder Puff
In its powder form, hot cocoa offers the convenience of instant beverage pleasure in an increasingly fast-paced world given to grab-and-go foodservice trends. Worth about $6 billion globally, cocoa powder packs a solid and sustained sales punch that is projected to see a net growth of around $800 million between 2014–2019, significantly more than malt-based beverages.1
Cocoa-based hot beverages have also inspired a popular flavor trend in various food categories, including limited-edition cookies, candies, popcorn and gum. As Tina Rzeha, marketing associate for Beverage Flavors North America, explained: "We have seen ... flavors such as hot chocolate in a variety of applications like ice cream, chap sticks, cookies, candies and other snacks. While hot chocolate falls under the umbrella of chocolate, it definitely is its own flavor category—it is creamier, more 'marshmallowy' and can contain a hint of vanilla."2
Like pumpkin spice, which has found its way into everything from ice cream to sauces to beer, hot chocolate has become a seasonal flavor that consumers eagerly anticipate as the holiday season and colder weather sets in.
The Heat is On for Sustainability
While the popularity of cocoa and cocoa-flavored products rises, global warming threatens supply. The International Center for Tropical Agriculture reports that regions in Ghana and Ivory Coast, which together produce upwards of 60% of the world's cocoa, could become unsuitable for growing cocoa by 2050 due to climate change.3 Environmental urgency, coupled with humanitarian concerns over substandard working conditions (including child labor) at West African and other cocoa fields is compelling major companies to adopt and champion sustainable cocoa farming practices.
As demand for cocoa grows, driven in part by emerging markets outside the U.S., manufacturers of chocolate goods are developing programs like Cocoa Life to help improve lives and communities in cocoa farming regions in underdeveloped areas of the world. Cocoa Life, for example, pledges to invest $400 million by 2022 in cocoa farms in Ivory Coast, Ghana, Indonesia, India, the Dominican Republic and Brazil.4
In light of millennial demand for sustainable farming and socially responsible business practices, programs like Cocoa Life are on the cusp of a growing foodservice trend. By helping to maintain the long-term stability of the cocoa supply chain and improve the welfare of cocoa farmers and their communities, manufacturers can help ensure cocoa-based products continue their hot streak for years to come.
What do you think about sustainability efforts in cocoa farming? Any plans to make hot cocoa sales pick up steam during the winter months?