Posted in Trends on April 5, 2022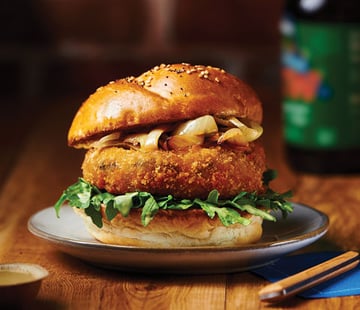 It's comforting to think that however much the foodservice landscape shifts, comfort food retains its appeal and can be counted on by operators to serve up sales.
Research data in "Healthy versus Indulgent Food," an infographic from The Food Group

(available upon

request here

)

, shows that comfort food was on the menu for over half of consumers surveyed from a cross-section of 21-40-year-olds.
1
Thirty-six percent indulge in comfort food five to seven times per week. Forty-two percent reported eating more comfort food over the last two years. Pizza took the cake as the top comfort food (74%), followed by neck-and-neck runners-up fried chicken (42%) and tacos (41%).
1
But the data digs deeper to find that functional and plant-based have a flourishing future, with 78% of survey participants in agreement that it is extremely/very important to eat functional foods and 80% regularly purchasing a minimum of one plant-based alternative product.1
"The survey results indicate the growth of the plant-based industry is not slowing down," said The Food Group CEO Mark Cotter. "Consumers are considering a variety of factors when it comes to food—not just price and taste, but also nutrition, sustainability and how it fits into their lifestyle. 'Functional comfort foods' will continue to be the trend as consumers look for ways to enjoy their favorite foods, but with more mindful ingredients."2
As explored in a previous post, plant-based alternatives to comfort foods such as chicken and burgers are sprouting up on menus with growing frequency.
A Star Is Born: Plant-Based Blooms in Hollywood and Beyond
What's more, plant-based diets are trending in Tinseltown, where the benefits of meat-free and vegan diets have taken root with a bevy of women celebrities. Google searches related to veganism reached their highest level in the U.S. a few years back when Kim Kardashian revealed she had a plant-based diet.3
In fact, many marquee names have become devotees of plant-based diets, from singing sensations Ariana Grande and Mýa, who has her own vegan wine line, to actresses Natalie Portman and Emily Deschanel.3 Online lifestyle publication LIVEKINDLY describes them and others as "women celebrities who are living their best lives on a plant-based diet and showing that it's not just a trend. For them, it's a lifestyle."3
Plant-based options continue to trend in grocery aisles as well. Independent plant-based meat producer Tofurky and dairy-free sister brand Moocho are expanding their portfolios of alternative comfort foods. New additions the brands selected to showcase at this year's Natural Products Expo West, an annual industry event for the natural and organic food industry, include Tofurky Pepperoni, Tofurky Hot Dog, Moocho Cream Cheese and Moocho Shredded Cheese.
Jaime Athos, Tofurky and Moocho CEO and president, noted that with the new launches, "we have prioritized creating deliciously indulgent foods in a plant-based form that is both affordable and accessible to consumers across the country."4
The acclaimed chefs at Mondelēz International Foodservice apply world-class culinary expertise to create delicious plant-based comfort food options like Mushroom Swiss Veggie Burgers made with RITZ Crackers. Browse our Culinary Center for inspiration and ideas to help optimize your menu for a changing market. Questions or challenges you'd like to share? Leave us a note below or contact us to find how we can help grow sales with creative culinary concepts customized for your operation's needs.
1 The Food Group, Healthy versus Indulgent Foods infographic, February 2022
2 Danley, Sam, "Gen Z, millennials seek comfort with a side of function," Food Business News, February 18, 2022
3 Leffler, Samantha, "Plant-Based Diets Take Hollywood by Storm," LIVEKINDLY, February 2022
4 Nosh, "Tofurky And Moocho Showcase New Plant-Based Pepperoni And Dairy-free Lines," March 4, 2022