Delivery is often seen as a bright spot during dark times for the restaurant industry. But while it may be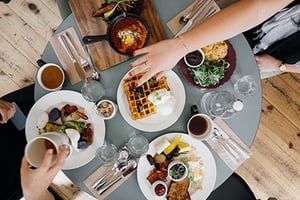 responsible for jumpstarting stalled sales, historically the industry has shown strong growth, as the research firm CBInsights reports.1
Contrary to popular belief, though some casual dining brands may be struggling, sluggish sales do not seem to be due to the millennial dining market's perceived unwillingness to eat out.1 Since 1970, decade-to-decade growth has been robust, reaching close to $799 billion in 2017—a startling figure which accounts for nearly 48% of the total amount American consumers spent on food and a $212 billion jump over 2010.1 The rise of the millennial consumer cohort seems to correspond with the upward arc of industry sales growth.
An Eclectic Recipe for Foodservice Success
While more adaptable iconic national chains have morphed to meet the demands of the changing market, it's more likely that a mix of transformations rather than a single innovation such as delivery has driven success.
Sure, many juggernauts have developed in-house delivery services or adopted third-party platforms like UberEATS or GrubHub, but other technological advances have moved business forward as well. Self-service kiosks at many McDonald's franchises and Dunkin' Donuts On-the-Go Mobile Ordering are two examples of technological innovation which feed the millennial appetite for speed and convenience.
Success in a device-driven market seems dependent on the ability to reach as many high-quality consumers as possible through a variety of touch points, including mobile ordering and social media. And the more options to order and receive food, the better.
Other practical considerations, including location, cost control and menu innovation tailored to the eclectic tastes of younger consumers, can also be considered key components, along with delivery, of the revenue engine that drives growth.
Connecting with Gen Z for a Higher Check Average
Digital technology is poised to grow in influence as Generation Z matures. While Gen Z (also known as iGen), which represents consumers between the ages of 11 and 23, comprises only 17% of the population, it is America's fastest-growing generation.2
Gen Zers are the first consumer cohort to grow up as digital natives weaned on devices they use on a daily basis to meet a wide variety of needs. As many of these young consumers enter adulthood in 2018, they are likely to increase demand for foodservice focused on digital ease and convenience.
Confronted with an endless array of dining options, Gen Z may find greater digital engagement a key differentiator that encourages brand loyalty. Survey results from the market research firm Mintel show that 37% of adult iGens (aged 18-23) feel their generation is likely to be loyal to brands they like.2.
Given the high rates of social media engagement among Gen Zers surveyed (60% visit Snapchat at least daily, 62% visit Instagram daily and 72% visit YouTube daily2), the influence of social buzz is likely to reach new heights.
With 58% of Gen Zers stressing their generation's taste for keeping up with trends, Mintel postulates that while it may not be necessary to gorge on viral trends, "focusing on the larger macro trends surrounding iGens will prepare restaurants to stay ahead of the competition."2
Reach out below to find out how our iconic brands have maintained customer loyalty generation after generation, and learn how our resources and expertise can help your foodservice operation deliver a more robust line.
1 CBI Insights, 11 New Restaurant Concepts Reimagining Fast Food & Casual Dining, July 17, 2018
2 Kelter, Diana, iGens are setting new expectations for restaurants, Mintel, Jan. 28, 2018