Posted in Snack on November 7, 2016
Crackers may come in small sizes, but their impact on the snack market is huge. Sales grew 17% during 2010-15, reaching $7.7 billion last year.1 As consumers become more health conscious and insist on high-nutrition, low-fat food options, interest in crackers as a healthy alternative to salty treats may help boost sales over the long haul.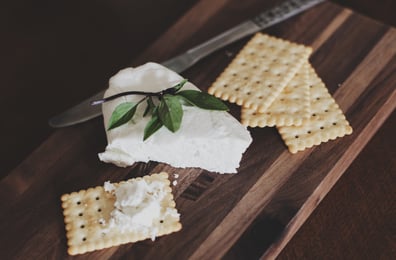 Despite crackers' robust popularity, Mintel research shows that it is actually a slowdown in sales that's driving the better-for-you snacking trend in the category, while manufacturers find themselves scrambling to meet demand for innovative healthy options with alternative ingredients including nuts, vegetables and grains.
1
As consumers demand healthy options, they still crave tasty, so new and satisfying flavor profiles remain key.
Taking a Crack at Healthy Options
Healthy snacking trends have shifted from new products and concepts to core offerings like crackers from the largest manufacturers. As a result, "major-branded companies are moving their mainstream products into that health category by changing ingredients and changing processes," said David Van Laar, president of the Biscuit & Cracker Manufacturers' Association.2
This shift is industry-changing, given the fact that US cookie and cracker manufacturing extends across approximately 300 companies with combined annual revenue in the $11 billion range. More than 90% of that revenue is concentrated in the top 50 companies. But while large companies have huge resources for purchasing, distribution and marketing, small foodservice operations can still capitalize on healthy snack trends with products that meet the need for high-end, allergen-free crackers that offer unusual ingredients and unique flavor experiences.3
As a staple found in more than 77% of households (surpassing cookies, which are present in 68% of households),2 crackers are a go-to treat for countless snackers looking for food sources that fulfill the dual demand for flavor satisfaction and healthy ingredients. Beth Bloom, food and drink analyst for Mintel, Chicago, explained that while cookies and crackers "find the most use as snacks, they see more varied consumption occasions. Even though both cookies and crackers benefit from snack positioning, the majority of buyers consider health-related attributes in their purchase decision."2
Good for You, Great for Business
Typically made of multi-grain and other flours mixed with wholesome ingredients like vegetables, ancient grains and high-protein foods, crackers are inherently well-positioned in a market increasingly influenced by health and wellness–oriented snack trends. Their versatility also serves them well, making them the perfect complement to a wide variety of food and wine and a popular staple among appetizers on restaurant menus. Their ability to be paired with healthy spreads and fillings like hummus and organic cheeses, as well as packaged in small quantities, enhances their popularity for millennial consumers who demand on-the-go convenience and build-your-own flexibility.
So what are the hot flavors that are driving snackers crackers these days? "Rosemary was quite a popular flavor over the last year," said Tom Vierhile, innovation insights director for Canadean Progressive Digital Media Group.4 "Coconut flavors seem to be catching on for crackers, along with pretzels, which can be a flavor or a descriptive term for the mouthfeel of the cracker."
Here are a few of the latest innovations in healthful and flavorful crackers:
Cracker sandwiches made with pretzels and cheddar cheese filling
Thins that combine the wholesomeness of wheat with the deliciousness of sweet potatoes
Italian and Mediterranean flavor blends like Italian herb and rosemary and olive focaccia
Protein-rich sandwich crackers filled with peanut butter
Wheat crackers that are 14% slimmer (22 of them equal 16 of the original-size thins)
Biscuits with on-trend breakfast flavors like blueberry muffin, maple French toast and cinnamon roll
How do you plan to crack the code and cash in on the foodservice trend of healthy crackers? Any particular varieties or flavors that your customers find especially appealing? Share your thoughts below.
1 Mintel, Crackers—US, March 2016
2 Atkinson, Ryan, "Cookie and cracker trends," Food Business News, Sept. 22, 2015,
http://www.foodbusinessnews.net/articles/news_home/Consumer_Trends/2015/09/Cookie_and_cracker_trends.aspx?ID=%7B0CBE421F-E525-49A8-9B1C-C5C3F8E12324%7D&cck=1
3 First Research, Cookie & Cracker Manufacturing Industry Profile, Aug. 15, 2016, http://www.firstresearch.com/Industry-Research/Cookie-and-Cracker-Manufacturing.html
4 Day, Beth, "Crackers: Healthy versatility," bakingbusiness.com, July 8, 2016,
http://www.bakingbusiness.com/articles/news_home/trends/2016/07/crackers_healthy_versatility.aspx?ID=%7B9C790448-E244-42CA-A409-9390162A7CBA%7D