Posted in Technology on April 12, 2022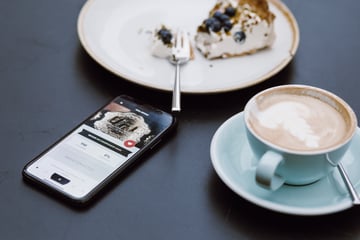 There's no shortage of challenges these days, but the good news is there's also a sumptuous buffet of bright ideas and smart solutions from which we can all draw inspiration.
The industry keeps cooking up fresh heaping platefuls of ways to engage consumers and serve up sales—and the resilience and resourcefulness of operators are on full display as they continue to bring more to the table.
Major restaurant chains are capitalizing on cultural and economic trends to take business to new levels of engagement and profitability. Take IHOP's first loyalty program, which enables members to earn "PanCoins" from "The International Bank of Pancakes" for free flapjacks.
Crypto currency, anyone? Not quite, but the family breakfast chain's loyalty program stacks up as a way to cash in on some sweet deals. Members earn one PanCoin for every $5 spent1 — and the return on investment can be a feast of delicious free food, depending on how frequently you patronize the pancake house.
The program is evolving, but so far for members every PanCoin equals one free pancake, and a short stack is theirs for the taking with three PanCoins. A "Stack Market" enables members to trade in their PanCoins for coupons that can be redeemed for a variety of other offers.1
Members who get a jump on the April launch of the program and sign up between March 9-29 are entitled to 10 free PanCoins and free delivery when ordering on the brand's app or website. For in-store purchases, PanCoins are tracked when customers scan a QR code at the table or on their receipt.1
As Kieran Donahue, IHOP's chief marketing officer, said: "It's all about joy. We wanted to make it even more rewarding for existing and new guests to enjoy time together, great food and those moments between bites that bring us so much happiness."1
While the crypto currency parallels make the program timely, but value-driven appeal is sure to increase interest in the brand's app. Fifty-seven percent of consumers surveyed download restaurant apps to earn and track loyalty points, and 52% to access offers and deals, according to geofencing technology platform Bluedot.2
Texas Roadhouse Tablets Clear Path to Easier Payments and Higher Tips
Steak restaurant chain Texas Roadhouse has rustled up a new way to enhance the customer experience and expedite payment. Available at 20 locations, with plans to roll out to about 400 more by summer's end, Roadhouse Pay gives patrons the ease and convenience of being able to pay their bill at their leisure with a tablet at the table, rather than having to settle up with their server.
Created by table ordering tablet company Ziosk, the Texas Roadhouse-branded tablets have processed nearly 83% of transactions in an initial round of tests. Customer reaction has been overwhelming favorable, with 80% to 90% saying the system improved their experience.3
The tablets not only save servers time by eliminating the need to handle transactions, but they also have resulted in higher tips. In prompting customers to tip 20%, they served as an automatic reminder of the importance of tipping and have generated about 3% higher tips.3
In keeping with the industry trend of increasingly integrating technology to ease the return of foot traffic to restaurants, Texas Roadhouse is also experimenting with equipping servers with handheld ordering devices.
Ziosk founder Raymond Howard summed up the trend: "Fundamentally, as demand has come back in the restaurant, inside the four walls of the restaurant, there's definitely a lot more focus on, how do you bring digital and how do you bring more of the technology inside of the dining room?"3
As the competitive landscape continues to shift at an ever-accelerating rate, achieving the right menu mix requires exceptional market insight and culinary ingenuity. The acclaimed chefs at Mondelēz International Foodservice combine innovative culinary expertise with beloved brand ingredients to create palate-pleasing, sales-driving concepts across meal parts.
From signature dishes to scrumptious desserts to trending beverages, you'll find ideas and inspiration in our Culinary Center. For menu solutions developed specifically to meet your operation's needs, leave us a message below or use this form.
1 Jennings, Lisa, "Guests can earn PanCoins for free pancakes through IHOP's first loyalty program," Nation's Restaurant News, March 10, 2022
2 Bluedot, The State of What Feeds Us Volume V, September 2021
3 Guszkowski, Joe, "Texas Roadhouse Launches Pay-at-the-Table System," Restaurant Business, March 10, 2022