Posted in Technology on December 27, 2022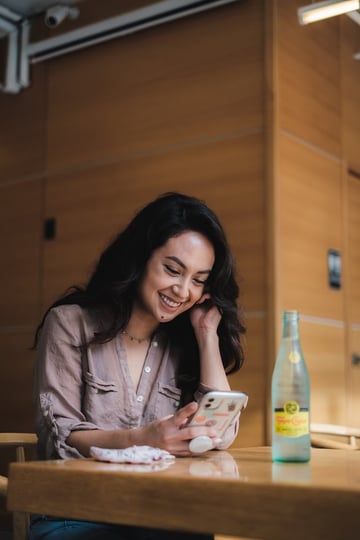 Foodservice is always about stepping up to the plate to serve consumer demand. Case in point: loyalty programs. As the hunger for them continues to grow, the surging rise of loyalty programs compels operators to feed the need.
Consumers crave rewards in a big way as a source of personalized customer experiences that enable them to accrue value and save money. One in 2 consumers surveyed ranked points and/or dollars as their main reason for joining a loyalty program, closely followed by coupons, according to Bluedot, the geofencing platform for apps.
1
Free delivery, exclusive content and special menu items rounded out the high-ranking ingredients of a recipe for success in building customer loyalty.
1
As a form of engagement and repeat visits, loyalty programs have become mission-critical for the long-term growth and profitability of major restaurant chains. Sixty-nine percent of respondents cited loyalty programs as an incentive to patronize a restaurant more frequently.1 That could translate into a feast of recurring revenue, and as we explored in our post "Big APPetite: Restaurant Apps Feed Need for Customer Experiences", major restaurant chains are digging into loyalty apps as a way to continuously feed the bottom line.
As app technology advances and loyalty programs become increasingly affordable and efficient, more and more restaurants across segments adopt them. Market insight and analysis company Insider Intelligence reports that nearly 60% of all restaurants now offer loyalty programs.2 That number is sure to grow, given other research revealing that 86% of consumers are interested in joining a loyalty program.3
APPetite Amplified: Loyalty Program Competition Heats Up
According to Zach Goldstein, founder of loyalty, CRM and guest engagement platform Thanx, restaurants are now vying with third-party delivery providers for the upper hand in grabbing attention and maximizing convenience in n loyalty app-hungry market.3 As he explained: "If you're not locking in repeat purchasing with your top customers, the third-party companies are. You're going to be turning away revenue because it will be easier for customers to order from third parties."3
Competition from the third-party delivery sector has intensified the adoption of loyalty programs, driving small chains and independent restaurants to join the fray. "I've never seen a period with more attention on customer loyalty," Goldstein said. "Restaurants of all sizes are jumping into this space at a remarkable clip."3
An example of the cross-segment pervasiveness of loyalty program integrations: Last year, as McDonald's debuted MyMcDonald's Rewards, the 30-unit chain Velvet Taco introduced The Velvet Room, its first loyalty program.3 The Velvet Room already accounts for over 15% of all Velvet Taco sales, according to Director of Marketing Cassie Cooper. "This means our loyalty program is increasingly top-of-mind for our customer base," she said.3
Meanwhile, the profit-generating potential of loyalty apps continues to grow as the technology develops. Multinational coffeehouse and restaurant brand Tim Hortons has integrated a pay and scan feature into its loyalty app. The feature enables members to securely pay for orders and store multiple payment methods for future payments, earn points and redeem rewards—all with a single scan.4
"Tims restaurant owners and their team members pride themselves on delivering an exceptional guest experience—and that includes quick and friendly service day in and day out," explained Markus Sturm, senior vice president of consumer goods, digital and loyalty at Tim Hortons.4 "We're making that experience even better with the speed and convenience of Scan & Pay, which will make their trips to Tims even better."4
From signature dishes to inventive desserts and drinks, the acclaimed chefs at Mondelēz Foodservice can help create a menu mix to enhance loyalty programs and incentivize customers for repeat business on- and off-premises. Feast on Our Insights for actionable data and industry news and analysis to help your foodservice operation navigate the rapidly changing competitive landscape. For custom menu solutions and ideas to help you resolve a specific challenge or optimize opportunities, just reach out below.
1 Bluedot, The State of What Feeds Us, September 2021
2 Wolff, Rachel, "Restaurants double down on loyalty programs to retain customers, maximize value," Insider Intelligence, March 25, 2022
3 Kelso, Alicia, "Loyalty programs are leveling the playing field for small restaurants," Nation's Restaurant News, November 9, 2022
4 Kostuch Media Inc., "Tim Hortons Launches New Scan and Pay Feature in App," Foodservice & Hospitality, November 14, 2022