Posted in Millennials on October 10, 2016
As consumers become more health conscious and public concern over food allergies reaches a fever pitch, there's a lot of sweet talk about what allergen-free snacking can bring to the table. Gluten-free dieting in particular has seen a surge in popularity. Projected to grow from $4.63 billion in 2015 to $7.59 billion in 2020,1 the gluten-free market is too big to ignore and naturally commands attention as a foodservice trend. As a result, gluten-free alternatives to popular favorites make sense for operators interested in menu innovation.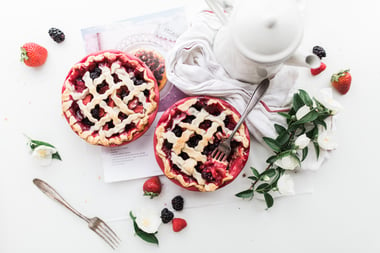 While wheat allergies tend to be rare and only roughly 1% of the population has celiac disease (the condition of the small intestine that causes hypersensitivity to gluten), an estimated 30% of shoppers opt for gluten-free products.2 What's more, 41% of U.S. adults consider gluten-free foods healthier in general, even though gluten-free options are not necessarily more nutritious and may even have higher sugar, sodium and fat content.2 The perception–sometimes accurate, sometimes not–that gluten-free snacks are healthy snacks has taken hold. The fact that much of the growth in the category is coming from cookies, crackers, snack bars and chips2 underscores the importance of the gluten-free phenomenon as a snacking trend.
Increasingly, the gluten-free market is seen as a healthy lifestyle choice. As Brijesh Kumar Choubey, a lead research analyst for the food industry at Technavio, explained: "Gluten-free products have turned from being medicated products for gluten intolerant people to a lifestyle choice across all customer segments."3
Feed the Need: Millennial Snack Attack
Gluten-free foods are especially popular among millennials. Nearly one in three millennials considers gluten free to be a driving factor in their food choices.4 According to Nielsen, younger generations are leading the charge to gluten-free food and ready to put their money where their mouth is when it comes to the higher prices often associated with gluten-free products. "Thirty-seven percent of Generation Z respondents and 31% of millennials are very willing to pay a premium for gluten-free products," reports Nielsen, "while only 22% of Baby Boomer and 12% of Silent Generation respondents are willing to do so."5
The perception that a gluten-free diet promotes a healthier diet may shed light on why the millennial snack is so often gluten free. While celiac disease and wheat allergies are limited to a small segment of the population, there may be varying degrees of gluten sensitivity, and the gluten-free movement has attracted a wide following who feel that living without gluten has made them healthier and happier.
Technavio predicts that new product innovation will drive gluten-free market growth in the foreseeable future, and that the bakery segment, which claimed 64% of the gluten-free packaged food market in 2014, will continue to grow through 2019.3 Meanwhile, pulses have proven a popular wheat substitute in pastas, baked foods and snacks for consumers who demand high protein and fiber in their health-oriented diets.3
Sweet Nothings: Award-Winning Snack Options Minus the Gluten
Given the prevalence of food allergies and the popularity of the gluten-free foodservice trend (#13 in the National Restaurant Association's What's Hot list of the top 20 Culinary Themes6), operators today are expected to adapt and offer dietary alternatives. But creating gluten-free options that are flavorful and delight rather than disappoint can be a challenge.
The need to feed the public's growing appetite for gluten-free snacks is inspiring some tasty ingenuity. At last year's National Restaurant Association Restaurant, Hotel-Motel Show in Chicago, a record number of Food and Beverage Innovations Award winners were gluten-free baked goods.7 Winners included:
A whoopie pie made with a proprietary flour blend that bakes a light and fluffy devil's food cake.
A wholesome, non-GMO substitute for wheat flour made with ground golden flaxseed and rice bran and offering 14 grams of whole grains per serving.
Two-layer cakes -- one featuring dark chocolate sponge cake and another with light, moist shortcake -- filled with premium ingredients such as Belgian white chocolate, strawberry fruit filling and chocolate ganache.
On-the-go, individually wrapped cookies in candy, chocolate chip and oatmeal raisin varieties as well as muffins in banana nut, blueberry and double chocolate variants.
Fully cooked individually quick-frozen pasta based on brown rice flour, starch and egg.
Think the gluten-free phenomenon has transitioned from passing fad to permanent fact? Any plans to sink your teeth into the gluten-free market? Give us a taste below.
1 Markets and Markets, Gluten-Free Products Market by Type (Bakery Products, Pizzas & Pastas, Cereals & Snacks, Savories, and Others), Source (Oilseeds & Pulses, Rice & Corn, Dairy & Meat Products, and Other Crops), & by Region - Global Trends & Forecast to 2020, Sep. 2015, http://www.marketsandmarkets.com/Market-Reports/gluten-free-products-market-738.html
2 Upton, Julie, "Think You're Sensitive to Gluten? Think Again," U.S. News and World Report, Jun. 11, 2015, http://health.usnews.com/health-news/blogs/eat-run/2015/06/11/think-youre-sensitive-to-gluten-think-again
3 Watrous, Monica, "Three trends driving gluten-free market," Food Business News, Feb. 10, 2016, http://www.foodbusinessnews.net/articles/news_home/Consumer_Trends/2016/02/Three_trends_driving_glutenfre.aspx?ID=%7BF0C580B5-8A77-433B-9C95-5B242D26520E%7D
4 Hamblin, James, "The Harm in Blindly 'Going Gluten Free,'" The Atlantic, May 15, 2016, http://www.theatlantic.com/science/archive/2016/05/celiac-vs-gluten/482676/
5 Nielsen, Younger Consumers Endorse Healthy Foods with a Willingness to Pay a Premium, Feb. 4, 2015, http://www.nielsen.com/us/en/insights/news/2015/younger-consumers-endorse-healthy-foods-with-a-willingness-to-pay.html
6 National Restaurant Association, What's Hot: 2016 Culinary Forecast, Nov. 5, 2015, http://www.restaurant.org/Downloads/PDFs/News-Research/WhatsHot2016
7 Berry, Donna, "Gluten-free impacts food service," Baking Business, Jul. 24, 2015, http://www.bakingbusiness.com/articles/news_home/Trends/2015/07/Glutenfree_impacts_food_servic.aspx?ID=%7B9C3BEEBA-5FBD-4AB8-9009-FE61F5D650BC%7D&cck=1