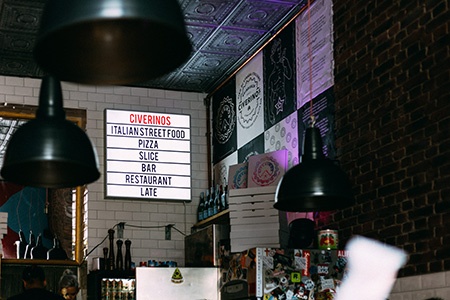 In the age of grab-and-go, when millennials demand foodservice operators cater to the need for speed in their busy lifestyles, self-service kiosks seem to be just what the foodservice customer ordered. Grab-and-go was bound to give way to tap-and-go, an even-more-streamlined ordering process for the $230 billion fast-food industry, where young customers are putting ever-greater emphasis on "fast."1
According to the foodservice market research firm Technomic, more than 40% of millennials surveyed said they would order from kiosks in a restaurant, compared to almost 30% of all survey participants.1 As Lauren Hallow, a concepts analyst at Technomic, explained: "Young customers … like to control the whole ordering process."1 Self-service kiosks give them "the chance to go quickly if they want to, or they can linger and see what the choices are without a cashier waiting."1

Accustomed to online and mobile ordering, millennial diners are primed to embrace kiosk technology. And many foodservice operators, under the financial strain of a rising minimum wage (as high as $15 in some states, including California),1 are hungry for the cashier-free efficiency kiosks can provide in addition to satisfying their customers' demand for faster service. These are a few of the factors that have led Business Insider to announce: "The age of the restaurant self-service kiosks has dawned, and it's the end of fast food as we know it."2

Big Foodservice Innovation, Big Restaurant Brands
Panera Bread has paved the way for other restaurants to capitalize on the kiosk craze. As part of the company's "Panera 2.0" digital platform development initiative, the fast casual powerhouse went on a kiosk-installation spree in its stores in 2016.2 Linking the kiosks to the "MyPanera" rewards program helped add a personalized dimension to the kiosk experience.
As Panera's Chief Transformation & Growth Officer Blaine Hurst noted, "Beyond shorter lines and improved accuracy, customers love the fact that they can save those modifications as favorites or order from their history."2 Panera's Q1 2016 earnings report cited a pattern of self-ordering locations outperforming the company's traditional restaurants.3
McDonald's followed suit with a plan to install self-service kiosks in 2,500 of its 14,000 U.S. locations by the end of 2017.4 Citing Panera's kiosk-driven sales boost, Andrew Charles, an analyst at the financial services firm Cowen, projected an additional 3,000 McDonald's restaurants could be kiosk-enabled in 2018, generating a 0.7% lift in sales in locations open at least a year.4
High Hopes for a Higher Check Average
Combined with employees who deliver food to tables, the kiosks are poised to serve up gradual sales increases at McDonald's as part of the fast food giant's "experience of the future"—a concept about which Charles said, "The initial indicators are showing positive signs."4
While kiosks alternate between being touted or taken to task as an innovation designed to cut labor costs, McDonald's is taking another cue from Panera, planning to use the technology as an opportunity to free up employees to improve foodservice customer service. As CEO Steve Easterbook explained, "It's not actually meant as a labor replacement. We can just reapportion that labor into more service-orientated roles that we think the customer will benefit both ways."4
Panera even increased employee hours at some locations to accommodate the increase in orders that the kiosks produce.1 According to Nick Setyan, senior vice president of restaurants equity research at Wedbush Securities, "They just had too many people in line and they felt they were losing transactions because they just didn't have enough room to process orders in a reasonable amount of time."1
Wendy's Co. is also hungry for the cutting-edge efficiency of kiosks, moving fast to add them to a minimum of 1,000 restaurants (about 15% of its locations) by end of 2017.1 The home of the old-fashioned burger's Chief Information Officer David Trimm cited "a huge amount" of demand from franchisees, given how popular the kiosks have proven to be with consumers. "You will see customers deliberately going to those kiosks directly, bypassing lines," he said. "Some customers clearly prefer to use the kiosks."1 While three kiosks can cost $15,000, Wendy's estimates that the investment will be recouped in under two years.1
Care to touch on how kiosks will affect the foodservice industry in general—and your operation in particular? Want to learn how our popular brands can help keep the orders coming, whether in front of the kiosk or behind the register? Tap us for insights below.
In part 2 of this post, we'll explore how a shift toward premium ingredients at major restaurant chains is driving menu innovation and accelerating sales.