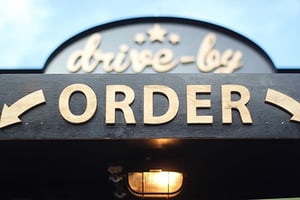 Quick service restaurants continue their shift into high gear, turbocharging sales and outpacing the competition.
According to the financial services company FirstData, QSRs surged high atop the dining segment in 2017 through 1Q18.1 The quick service category posted year-over-year growth of 6.6% in consumer spending—an especially impressive figure when compared with upscale dining, which declined 1.7%.1
FirstData cites the rise of digital enablement as a key factor driving QSR growth,1 and attributes a notable increase in e-Commerce spend share (31% in 1Q18 compared to 28% in 4Q17) in part to restaurants.2 In fact, 1Q18 highlights included e-commerce spending outpacing brick-and-mortar locations year over year (8.7% versus 3.2%) across all industries.3
As digital natives, millennials and Gen Zers seem predisposed to technology-centric dining experiences and more likely to expect various forms of tech, from free Wi-Fi to delivery apps, to be integrated into foodservice operations.
While adult consumers surveyed are 30% more likely to use restaurant technology then they were two years ago, 32% believe restaurants fail to make sufficient use of tech.4 QSRs may encounter a speed bump on the superhighway of sales if they neglect to upgrade their digital capabilities, from voice ordering and mobile payments to robotics and artificial intelligence.
QSRs Take the Fast Track to a Higher Check Average
The online guide to franchise opportunities FranchiseHelp, which includes fast food and fast casual restaurants in the QSR category, reports that quick service accounts for upwards of 50% of sales in the restaurant sector.5 The online guide to franchise opportunities points out that shifting consumer preferences and entrepreneurs in search of profitable opportunities have helped drive the diversification of QSR concepts and an emphasis on menu innovation.
Technavio, a global technology and research firm, has identified three emerging trends that seem likely to accelerate the growth QSR markets to new levels:6
Increasing innovations in food packaging: Driven in part by demand from socially conscious young consumers, a sharpening focus on sustainability is compelling foodservice operators to adopt environmentally friendly packaging solutions. "Technological innovations in packaging are expected to drive the demand for fast food in the future," said Manjunath Reddy, a lead foodservice analyst at Technavio. "McDonald's and Starbucks use sustainable packaging and have increased the use of reusable and recyclable substances."


Growing use of mobile applications: As consumers increasingly turn to mobile technology for speed and convenience, expect more online and mobile third-party delivery platforms like Postmates, UberEATS and Amazon Restaurants to operate as full-service restaurants. Prized for their ease and convenience, mobile apps can serve a wide range of purposes, from locating nearby stores for drive-thru or takeaway to customizing snack selections by calorie counts.


Increasing innovation and customization of menu: Consumer tastes and preferences continue to evolve, with millennials in particular increasing demand for innovative and exotic cuisine customized to reflect the importance of personal diet and nutrition. "Consumers prefer customized food items, which match their taste," said Manjunath. "Many foodservice vendors provide customization options so that consumers can customize a range of ingredients including freshly baked bread and the preferred type of cheese and meats, jalapeño, bell peppers, spreads and extra fillings."
To learn about the many ways we can help your sales pick up speed and drive a higher check average, whether you operate a QSR or any other kind of foodservice establishment, visit our Your Business page. As always, feel free to drop up as a line below for a quick reply.
1 FirstData, Quarterly SpendTrend® Report: 1Q18, 2018, p. 12
2 FirstData, p. 6
3 FirstData, p. 2
4 Comcast Business, 5 Technology Trends Impacting the QSR Industry, March 2, 2018
5 Sena, Matt, Fast Food Industry Analysis 2018 - Cost & Trends, Franchise Help, 2018
6 Business Wire, Top Trends in the Quick Service Restaurants Market in the Us – Technavio, Jan. 16, 2018