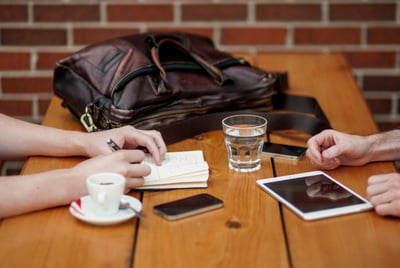 For foodservice operators hungry for growth and higher margins, riding the e‑commerce wave can be very appealing. But understanding e‑commerce, its potential and pitfalls, is essential if you don't want to come up empty, or worse, in a hole of wasted time and money.
With online retail sales expected to reach $523 billion by 20201 and consumers becoming increasingly accustomed to the convenience of online shopping and engagement, traditional brick-and-mortar foodservice operators must reposition themselves as players in the e‑commerce space or risk becoming irrelevant.
In fact, research shows that with the rapid rise of the quick service restaurant industry, a parallel trend has been consumer demand for the speed and flexibility of online ordering. 43% of survey participants who consumed fast food in a 12-month period said they would like to order online from a QSR in the following 12 months, while three in ten said that they would prefer ordering from their mobile devices.2 As digitally savvy, snack-obsessed millennials continue to grow in influence (they've already overtaken baby boomers as the largest generation), it makes sense to expect consumer enthusiasm for e‑commerce to increase. According to a Harris poll,3 online food shoppers are more likely to be millennials, with 36% of them having purchased food online in the first half of 2016.
The Ka-Ching Is the Thing, But Millennials Expect More
Bear in mind that for millennials, an e‑commerce presence is not just about the ability to order online but about easy access to information that they can use to educate themselves about brands, products and services. The millennial preference for healthy snacks with traceable origins makes it critical for food brands to serve up readily available information online about their products' nutritional value and the integrity of the ingredients they use. E‑commerce caters to the on-the-go lifestyles of millennials, but to be successful it must satisfy their appetite for healthy food from reputable and sustainable sources. Your own e‑commerce presence, whether through an app or website, enables you to control how your brands and products are positioned for your target audience. Without it, consumers (especially millennials) are likely to rely on their own research to determine whether to become or remain your customers.
On the most practical level, the value of being e‑commerce-enabled can be broken down to four core benefits:
It's efficient: Enabling customers to order online reduces dependency on phone orders and time-consuming interactions with your staff. It frees up your staff to focus on dining-in customer satisfaction, and reduces the risk of incorrect orders and the need for redeliveries. The online order experience allows customers to take their time browsing your menu and place an order in seconds. It's customer service on autopilot—quick, efficient and error-free (so long as you make sure your site or app functions optimally).
It can lead to larger orders: Having an e‑commerce-equipped menu online allows customers to take the time to consider the full range of items, giving them the flexibility to build an order to their specifications. Whether you offer pickup or delivery, the online menu is a great, built-in way to encourage upselling, allowing consumers to click on additional items to add to their order. It also provides another revenue stream to help boost the bottom line at traditional sit-down restaurants where some days may be busier than others.
It gets new customers (especially when you go mobile): By meeting consumer demand for e‑commerce, you expand your opportunities to acquire new customers who expect the ease and convenience of ordering online. But don't limit your e‑commerce capability to desktop. The explosive growth of m‑commerce makes it a no-brainer to tap the power of mobile to help drive snack sales.. M-commerce accounted for nearly one-third of all U.S. e-commerce sales in 2015.4 To ensure you reach the widest possible audience—and in particular, mobile-savvy millennials—make sure you offer a mobile-optimized online ordering experience.
It's cost-effective: Online ordering services often offer to build e‑commerce-enabled websites for free and only charge a small commission for orders received. For pennies on the dollar, they provide independently owned restaurants with access to the same technology that large chains use to process orders. While some online ordering services charge startups, return on investment tends to be a safe bet as a personalized website helps new customers find your business through search engines and websites like Yelp and UrbanSpoon.
Of course, the surging popularity of e‑commerce has its drawbacks. While the speed of online ordering is a big plus, speed of delivery can be problematic. This dual need for speed can open a pandora's box of delivery challenges. If you plan to grow to industrial capacity, storing, shipping and supply-chain logistics can put a lot on your plate. Even small operators should keep in mind that orders need to be filled fast to meet the expectation of speed that e‑commerce encourages.
How do you plan to sink your teeth into e‑commerce? If you already have an e‑commerce site, how has it affected your business? Share your thoughts below.
1 Lindner, Matt, "Online sales will reach $523 billion by 2020 in the U.S.," Internet Retailer, Jan. 29, 2016, https://www.internetretailer.com/2016/01/29/online-sales-will-reach-523-billion-2020-us
2 Business Wire, "Convergence of Digital Food Ordering Technologies Provides Next Generation Consumer Experience", April 29, 2013, http://www.businesswire.com/news/home/20130429005546/en/Convergence-Digital-Food-Ordering-Technologies-Generation-Consumer
3 Birth, Allyssa, "Purchasing Food Online: The New Normal?" The Harris Poll, June 29, 2016, http://www.theharrispoll.com/business/Purchasing-Food-Online-New-Normal.pdf
4 Brohan, Mark, "Mobile commerce is now 30% of all U.S. e-commerce," Internet Retailer, Aug. 18, 2015, https://www.internetretailer.com/2015/08/18/mobile-commerce-now-30-all-us-e-commerce