Posted in Trends on October 4, 2022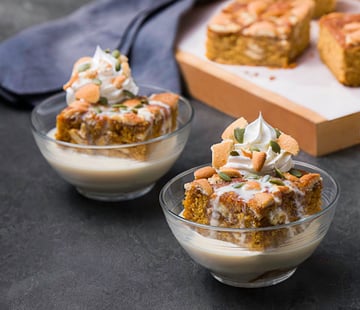 Pumpkin spice, anyone? Yep, it's that time of year again. Summer is winding down, the temperature is dropping, and a cornucopia of fall flavors are cropping up on menus and store shelves everywhere.
Now if only stress levels were falling with the leaves and the heat from business climate would cool down. There's an urgency in the air as the season shifts to fall, when foodservice operators, chefs and retailers look to the market's anticipation of fall flavors for a feast of seasonal sales.
According to the market research firm Datassential, 54% of operators consider limited-time offers (LTOs) as a central part of their business,1 and with heightened pressure to capitalize on the seasonal, it stands to reason that there will be an especially robust fall flavor fest of seasonal LTOs this year.
In response to economic challenges like labor shortages and supply chain breaks, 26% of operations across foodservice segments have introduced more LTOs to drive traffic.2 Seasonality presents a powerful opportunity to jump-start sales with LTO concepts. And in an environment where 77% of operators surveyed have raised menu prices2 and put the market's price sensitivity to the test, seasonal LTOs and specialty items give consumers a reason to spend more.
Beyond the Pumpkin Patch: Carving Out New LTOs for the Season
"We've said often over the past two-plus years how important innovation is in getting consumers excited about eating out and trying new things again," reported Datassential, which calls innovation "more important than ever" at a time when the economy is contracting.1
No wonder Datassential research shows that operators have been busy cooking up more LTO concepts this year than in 2021.1 Fall flavors are renowned sources of culinary comfort and nostalgia that usher in the holiday season while harkening back to childhood memories. But seasonal staples often share the stage with trending twists on old favorites or fresh takes on familiar flavor profiles.
As the U.K.-based trend forecasting company WGSN reported in its Autumn Flavours Forecast: "For autumn 2022, expect brands to look beyond pumpkin to items flavoured with apple, salted maple, pecan pie, cinnamon bun, pear and pretzel, in expressions ranging from umami richness to savoury spice."3
Major chains served up 174 pumpkin LTOs last fall, and while a rich harvest of them are already piling up on menus and store shelves, sweet-spicy and tart-spicy flavor profiles are trending and giving the market a fresh taste of variety (Datassential cites spicy margaritas and mango habanero as examples).1
Meanwhile, blood orange is tantalizing taste buds this fall. In keeping with the 38% percent of consumers who love or like the flavor,1 Dunkin' has released a Blood Orange Refresher, while Dave & Busters is boosting its beverage menu with a Blood Orange Paloma. And here's a scoop for the 45% of consumers who love or like ginger1: The Braum's chain of ice cream parlors is offering gingerbread ice cream.
At Mondelēz International, our acclaimed chefs leverage our beloved brand ingredients to create fresh takes on seasonal favorites like Pumpkin Tres Leches Cake made with NILLA Cookie Pieces. Browse our Culinary Center for a feast of ideas and inspiration. To learn how we can create custom LTOs and signature specialty concepts for your operation, contact us below.
1 Datassential, Food Industry Trend Report 2022 Pumpkin Spice Season
2 Datassential, One Table: State of the Operator and the Road Ahead, 2022 Edition
3 Lancaster, Claire, Autumn Flavours Forecast 2022, October 18, 2021