Posted in Desserts on December 31, 2019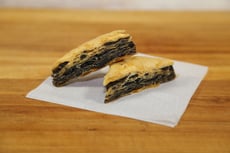 As changing demographics transform the foodservice landscape, elevating menus to reflect America's diverse culinary influences takes center plate. Demographic shifts serve up opportunities for foodservice operators to pay homage to a broad spectrum of heritages. Insights into consumer segments are increasingly important as the market's appetite for ethnic culinary inspirations continue to grow.
Millennials may monopolize the buzz as they overtake Baby Boomers as the largest generation.
1
But according to the Pew Research Center, Gen Z is hot on their heels, emerging as the best educated and most diverse generation yet.
1
And with nearly half of Gen Z consisting of racial and ethnic minorities,
1
foodservice operations have the opportunity to step up to the plate and serve their culinary preferences.

What's more, Pew has determined that the immigrant consumer base in the U.S. is surging to record heights, with 44 million foreign-born people (13.6% of the population) residing in America.1 The rising tide of diversity and the hunger among young consumers for flavor adventures make ethnic culinary experiences especially critical.
Survey data from the market research firm Technomic bears out the growing popularity of ethnic cuisine. Thirty-six percent of consumers surveyed order ethnic foods or foods with ethnic flavors on a weekly basis at a minimum.2 The same percentage says they like to branch out and try regional varieties of such mainstream ethnic cuisines as Mexican and Chinese.2 And a quarter of consumers surveyed prefer cuisine from a specific region of the native country.2
The top regional varieties of Chinese cuisine that survey participants favored are Sichuan (51%), which tends to feature pungent and spicy flavors, and Cantonese (42%)2, which emphasizes lightly cooked fresh vegetables and meat in sweet sauces. Technomic found that the popularity of spicy foods is heating up, from Asian fare to American cuisine.2
Among the cuisines foodservice operators surveyed already menu are Greek (32%), Cajun/Creole (28%) and Thai (21%).2
Restaurant Operations Eat Up Ethnic Menu Innovation
Major chains are revved up about ethnic cuisine and driving sales with internationally inspired menu enhancements. This summer, McDonald's "Worldwide Favorites" added popular items from other countries to U.S. menus for a limited time. "We know our U.S. customers are curious about McDonald's international menu items," explained Linda VanGosen, the burger giant's vice president of menu innovation. "Because we are always innovating our menu, we are thrilled to leverage our global scale and offer popular flavors from around the world."3
"Wordlwide Favorites" include the Grand McExtreme Bacon Burger from Spain—a quarter pound of beef stacked with Applewood smoked bacon, Gouda cheese and slivered onions on a toasted sesame seed bun. In a nod to the U.S. market's taste for international dessert concepts, the favorites also include the Stroopwafel McFlurry. This creamy vanilla soft serve is mixed with a caramel swirl and features chopped Dutch Stroopwafel caramel waffle pieces.
Rival chain Burger King also added ethnic flair to its menu nationwide with the limited-time addition of beef tacos. As Chris Finazzo, Burger King's president for North America, explained: "We've seen success with tacos in our West Coast restaurants and knew it was time to bring this West Coast favorite nationwide. The Crispy Taco adds variety to our snacking items and truly hits the spot."4
Let Mondelēz International Foodservice help your business leverage global foodservice influences with an array of ethnic dishes, including Falafel Pita Wrap with PREMIUM Cracker Meal and Baklava made with OREO Cookie Pieces and Base Cake. Reach out below to learn more and explore custom solutions for your foodservice operation.
1 Cilluffo, Anthony, Cohn, D'Vera, 6 demographic trends shaping the U.S. and the world in 2019, Apr. 11, 2019), Pew Research Center
2 Technomic, Ethnic Food & Beverage Consumer Trend Report Infographic, 2018
4 Tyko, Kelly, "Burger King brings back tacos for a limited time with new $1 Crispy Tacos," USA Today, July 9, 2019