Consumers who hunger for the speed and convenience of restaurant apps are occupying an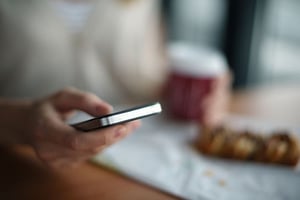 increasingly prominent place at the foodservice table. The market research and analytics firm DMI dubs them "mobile reliants"—millennials who have come of age during the rise of digital connectivity and who eat up the at-your-fingertips features (like mobile ordering and payments) of quick service apps.1
As major chains flex their mobile muscle with high-profile apps, more and more small and independent restaurant operations seem to be wising up to the powerful potential of smart devices to drive traffic and boost the bottom line.
While larger players have the capital and IT resources to custom-design apps in house, restaurants that lack the same scale turn to app design and development companies like LevelUp. Specializing in personalized apps that allow independents and mid-sized regional chains to compete more effectively with national chains, LevelUp's growing portfolio of clients includes Smoothie King, Zaxby's, Clean Juice, Kung Fu Tea and Honeygrow.2
In addition to standard app features like enabling customers to order and pay ahead, LevelUp offers innovations like the ability to donate loyalty rewards to a charity of choice and send virtual gift cards that can be redeemed in store.2 A new feature called Broadcast lets restaurants promote their menus on social media platforms like Facebook, Yelp and Foursquare that are equipped for mobile ordering and payment.2
Such app ingenuity can make a big difference for small operations. As Mike Brucklier, director of operations for Flour Bakery + Cafe, told Nation's Restaurant News: "We are located many times next to Dunkin' or Starbucks or Au Bon Pain. For specific things like coffee, Starbucks has a well-built app. LevelUp has allowed us to compete on their level."2 LevelUp developed the 18-year-old, 7-unit brand's first app and loyalty program.2
Profitable Restaurant Chains Link Up with Delivery Apps
Meanwhile, juggernauts like Panera are picking up speed with delivery apps. Thirty percent of its total company sales are driven by online, app and kiosk orders.3 Speed is of the essence to the digital experience, and in most areas, orders are filled by a participating Panera within an eight-minute drive of the delivery destination..3 Delivery is provided in most markets to both home and office locations.3
Delivery orders are fully integrated with the MyPanera® loyalty program, which allows users to save their order history, accumulate and review rewards, and receive personalized offers.
Not to be outdone, Domino's has introduced delivery to over 150,000 outdoor hotspots from coast to coast.4 Available exclusively online or through the chain's apps, Domino's Hotspots are blazing a new trail of delivery ease and convenience, dispatching pizza orders to beaches, parks and sports fields that were long out of reach. Similar to Google Maps, Domino's Hotspots appear on a map based on a customer's location. There's even a feature to enable customers to leave notes to help the driver find them. Text message alerts inform orderers of an estimated arrival time and the progress of their deliveries.
Russell Weiner, president of Domino's USA, summed up why hotspots ignite so much interest: "We listened to customers and their need for pizza delivery to locations without a traditional address. We know that delivery is all about convenience, and Domino's Hotspots are an innovation that is all about flexible delivery options for customers."4
Whether you operate a big brand restaurant or an independent establishment, you need to deliver the right product mix to today's consumer. Be sure to check out our Culinary Center for menu innovation ideas and insights, and use our Recipe Box to save your favorites.
1 QSR Magazine, What Mobile Apps, Millennials Reveal About Restaurants,Oct. 2017
2 Luna, Nancy, "Tech Tracker: Creating a Starbucks-caliber app experience," Nation's Restaurant News, June 20, 2018
3 Panera Bread, Panera Bread Unveils National Food Delivery, May 8, 2018
4 Chen, Joyce, "Dominos now delivers to picnic blankets and iconic monuments," USA Today, Apr. 16, 2018