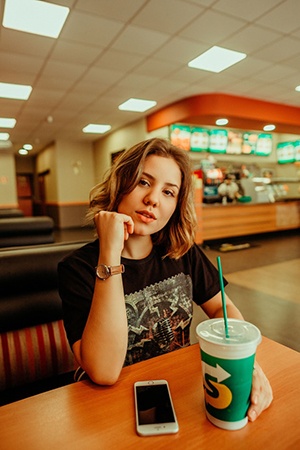 Delivery has arrived as a key foodservice trend, traffic driver and revenue engine. Now representing 1.7 billion annual foodservice visits,1 delivery is in the driver's seat of demand for a faster, more convenient customer experience. With a quarter of U.S. consumers surveyed having ordered delivery in the past three months as of April 2017,1 the delivery phenomenon can be expected to continue to pick up speed.
Increasingly viewed as a foodservice customer service essential, delivery fuels the need for restaurants to consider the most effective ways to integrate it into their operators. The shifting landscape of to-go orders, third-party delivery partnerships and in-house delivery compels restaurants to revisit the design of their physical spaces with an eye toward end-to-end efficiency.
It stands to reason that technology and physical space should work in tandem to create an optimal customer experience. Ordering ahead is a much-touted convenience, and efficient point-of-sale systems and high-engagement loyalty programs and apps are important. But there are practical considerations on the ground level that could undermine delivery if foodservice operations neglect them.
Ideally, delivery is a happy marriage between technological convenience and operational efficiency. As Jenna Telesca, editor-in-chief of Nation's Restaurant News, wrote: "You don't want grabbing orders from your stores to be a headache. On top of wanting your restaurants to be a favored destination of third-party delivery, food is ultimately being delivered to your guests, who will want their food hot and fast."2
Designed to Deliver Sales, Not Detract from Dining In
Delivery design enhancements like special entrances for delivery-only orders and designated pickup areas should expedite to-go business without compromising the comfort of dine-in customers. And ordering ahead to skip the line shouldn't create a perception that patrons who are willing to spend money and time on premises are second class.
While "takeout and delivery are booming, with no end in sight," as Tré Musco, president and chief creative officer of the design firm Tesser put it,1 redesigns should take care not to siphon off dine-in business. As an example of what to avoid, Musco, whose firm has worked with major restaurant chains, says an over-emphasis on the takeout/delivery area could discourage dine-in bar customers who like to relax with drinks before and after they dine.1
As catching up with to-go demand drives chains to rethink their store designs, innovative approaches are developed to spur delivery and maintain optimal customer service on premises at the same time.
The new 7,300-square-foot Cheddar's Scratch Kitchen unit in Lake Worth, Texas, has a carryout entrance on the side of the building. Its dedicated carryout area is near the kitchen but away from the main dining room and bar, and has its own registers.
In Addison, Texas, TGI Fridays is testing a takeout area inspired by its airport locations, with an eye toward driving time-pressed lunch traffic from nearby office buildings.
But what if customers simply prefer a digital experience to dining on premises? Average customer spend on orders placed on the Shake Shack mobile app, for example, is greater than in stores.3 In its forecast of 2018 megatrends, Skift Table suggests that touch-screen ordering may replicate the app experience on premises, where initial feedback has been positive.3
Always a pivotal factor in driving sales, whether off site or on, is brand trust and quality. Keep in mind that 72% of survey participants age 18–34 are more likely to try a new product if it's made by a familiar brand,4 and 67% in the same age group like to purchase desserts with brand-name ingredients at restaurants.5 Reach out to us to learn how our brands can help boost your delivery and dine-in business, and feel free to deliver a few thoughts below.
1 Ruggless, Ron, "Restaurants update designs for delivery," Nation's Restaurant News, April 9, 2018
2 Telesca, Jenna, "Is your restaurant ready for a to-go world?" Nation's Restaurant News, April 10, 2018
3 Hawley, Kristen, "Restaurant Megatrends 2018: Restaurants Use Experiences to Fight Delivery Boom," Skift Table, Jan. 18, 2018
4 Technomic, Flavor Consumer Trend Report, 2017, p. 83
5 Technomic, Dessert Consumer Trend Report, 2017, p. 82