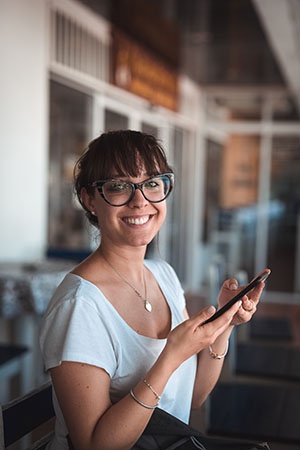 More and more consumers these days have foodservice under their thumb—literally. In fact, so many foodies are feeding their need for the speed and convenience of restaurant apps, there's been a 70% growth in usage, according to survey results from GlobalWebIndex.1
The consumer data and analytics firm found that among a cross-section of foodies (defined as people with a strong interest in food, restaurants or cooking), the percentage of consumers between the ages of 16 and 64 using apps rose from 20% to 34%.1 And the upward arc of usage continues.1
One in three foodies surveyed are using food/restaurant apps,1 underscoring a feeding frenzy that compels foodservice operators to step up to the plate when it comes to mobile app development.
What's more, survey results show that this cohort is 25% more likely to tap reviews for insights into their restaurant options.1 Apps are not only satisfying a growing appetite for quick eats; they're driving and (depending on whether a review is favorable or critical) redirecting traffic.
Maximizing Your Foodservice App for a Higher Check Average
So what makes a well-designed mobile app? Being available on iOS, Android and Windows platforms certainly helps, making an app accessible to a broad range of consumers and allowing them to invite their friends.
A menu with high-quality images, click-to-call ordering and reservations, contact info with hours of operations, and map with directions to your establishment are all must-have features. To maximize consumer interest and interaction, consider loyalty and referral programs, social sharing, coupons, requests for reviews, and in-app ("push") notifications of exclusive offers.
Apps are making quick service restaurants even quicker, accelerating the speed at which orders are processed and payments received. Survey results for DMI Research, a market research and development agency, serve up juicy insights into the popularity of restaurant apps among convenience-hungry millennials. Sixty-three percent of those surveyed have at least one quick-service app on their phone; 73% have used them inside quick-serves; and 35% use them on every visit, or a regular basis.2
Quick Service Restaurants Act Fast to Put Apps High on the Menu
According to InfoScout, a purveyor of real-time consumer and shopper insights, data based on an analysis of over 77,000 guest visits revealed the extent to which apps can influence millennial traffic patterns at QSRs.2 By tracking millennial trips, the firm was able to gauge the ability of apps from major chains to attract and retain customers.
Most popular QSR apps among millennials was Moe's Southwest Grille (highest percentage of trips); Domino's delivered the next-highest percentage.2 Despite widely different market segments and business models, 7-Eleven and Buffalo Wild Wings also had high indexes for millennial visits.2 While the Panera Bread and Five Guys apps tend to be highly rated, trip counts for them were significantly higher among Gen Xers than millennials.2
Driving the data behind successful restaurant apps may be the ever-accelerating lifestyle of a generation weaned on the digital revolution, with high expectations for the ease and convenience tech can make possible.
As Dennis Maloney, Domino's chief digital officer, explained in describing the company's zero-click app, which instantly places a user's favorite order after a 10-second countdown: "It's about pushing the boundaries to create fun experiences that reinforce who we are as a brand. These should be things that move the brand forward in a big way long-term. Plus, they're fun to work on."2
To learn how our brands, culinary expertise and commitment to innovation can help your foodservice operation kick app in a tech-driven millennial snack market, reach out below. And if you haven't already, register now for our exclusive Snack & Dessert Solutions.
In part 2 of this post, we'll present a rundown of the most widely used food delivery apps and explore the features and innovations that make them so popular.