Posted in Technology on August 1, 2023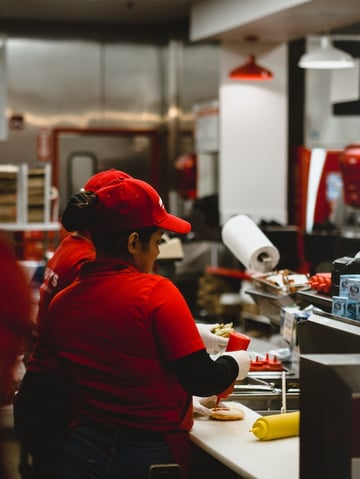 Once the pandemic began propelling the rapid integration and expansion of drive-thrus and delivery, it was off to the races for the fast-casual segment. Digital ordering and curbside service picked up speed as dining rooms were shuttered or restricted and eventually reconfigured in a seismic shift to off-premise business.
After the prolonged period of pandemic-driven innovation, the ease and convenience of off-premise channels have become ingrained in consumer purchasing behavior. As Sam Rothschild, chief operating officer of the 200+ unit Slim Chickens chain, put it: "I thought that honestly once COVID was dwindling down, that part of the business would subside a little bit and people would go back to their normal routines. Well, what we've seen is, delivery is now a part of the normal routine, and that part of the business has not dropped off."1
Pre-pandemic, dine-in comprised 35% of Slim Chickens' sales; today it scratches up 20% and drive-thru tops the pecking order with 50%.1 On a broader segment scale, drive-thru remains the dominant revenue engine post-pandemic, fueling 75% of quick-service sales.2 As a result, expect fast casuals to accelerate investment in drive-thru and digital capabilities.
Panera Bread is rising to the challenge of the ongoing growth of drive-thru business with the national rollout of drive-thru pickup, rounding out its mobile order and curbside pickup options. Customers can place an order in advance on the brand's app or website and pick up their food at the drive-thru window.
"Panera pioneered the idea of digital ordering in the restaurant industry, and for years, our guests have loved the option to order ahead and pick their items up on the rapid pickup shelf," said Chris Correnti, Panera's senior vice president of channels and guest experience. "Now we're extending that convenience to the drive-thru, giving our guests another fast and convenient way to get their favorite Panera meal."3
Omnichannel digital transactions at Panera average approximately 3 million per week, accounting for more than half of all system sales as the brand prepares to become a publicly traded company again.3
Making the Connection: Digital Continues to Drive Growth

Fast casual as a whole is poised for robust growth, according to tech research and advisory company Technavio, which projects the segment will grow to $28 billion by 2025.4 Allied Market Research estimates that the segment will soar to $209.1 billion by 2027.4
Much of the growth is fueled by the market's insatiable appetite for technological innovations that streamline the guest experience.
"Over the past few years, brands have seen explosive growth in their online orders through their website or mobile app, which has precipitated changes in everything from physical designs and layouts to the technology in use to facilitate the ordering process," explained Sarah Beckett, director of marketing at customer experience software company Intouch Insight, which has collaborated with QSR Magazine on a study of the state of guest experience.4 "With this new study, we want to set a benchmark that brands can use to measure their own performance and understand how the differences in operational execution impact key performance indicators, like speed and accuracy."4
A key takeaway from the report: Ensuring that the customer has a high level of satisfaction with the pickup experience, with the order ready and easily accessible upon arrival, is a must in a hypercompetitive environment focused on convenience.4
Technological solutions have also streamlined dine-in operations and reduced overhead. Fifty-two percent of restaurants now use QR codes to link dine-in customers to digital menus for a low-cost solution to making ordering quicker and more convenient.2
Looking for inventive menu solutions to boost sales on-premises and off? The acclaimed chefs of Mondelēz Foodservice specialize in optimizing menu mixes with a combination of culinary ingenuity and trusted brand ingredients. Visit our Insights page for ideas, inspiration and information to help you navigate your foodservice segment. Reach out below for custom menu solutions or answers to your culinary questions. We're always here to help feed your bottom line.
1 Evergreen, Callie, "The Future of Fast Casual in 2023 and Beyond," QSR Magazine, January 2023
2 McGinty, Will, "The Digital Breakthroughs Powering a Fast-Food Revolution," QSR Magazine, June 1, 2023
3 Fantozzi, Joanna, "Panera Launches Drive-Thru Pickup Nationally," Nation's Restaurant News, June 1, 2023
4 Klein, Danny, "The State of Guest Experience in Fast Casual," QSR Magazine, May 2023