Posted in Better-for-You on December 6, 2022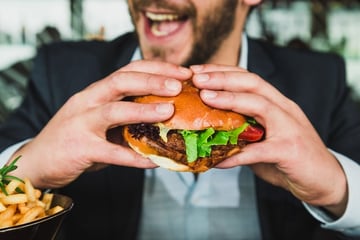 All's well that ends in wellness seems to be the mantra of the moment for foodservice operators. In an increasingly wellness-oriented market, where the pandemic has heightened consumer awareness of the connection between food and function, the feeding frenzy of buzz for better-for-you foodservice trends makes perfect sense.
But what may be overlooked is the role comfort food and nostalgia play in satisfying the consumer desire for emotional well-being.
In fact, research shows that consumers are looking to strike a balance in their food consumption that takes their emotional health into consideration. Survey data from the latest State of Snacking report from Mondelēz International reveals a predominantly holistic view of wellness, with large majorities of consumers turning to snacks to improve their physical (80%), mental (75%) and emotional (80%) health.1
What's more, other research shows that while young consumers plan to balance indulgent food and snack consumption with plant-based and functional options this year, comfort foods take the cake for menu frequency to accommodate persistently high demand.2 Forty-two percent of consumers between the ages of 21 and 40 report eating more comfort food over the last two years, and 44% plan to eat the same amount in the coming year.2
Time-honored items like pizza (74%), fried chicken (42%), tacos (41%) and burgers (29%) rank high among comfort foods.2 Menu items that feed into nostalgic experiences are especially appealing, given the social and economic dislocations caused by the pandemic.
"Nostalgia is booming in the food and beverage industry, from grocery store shelves to the culinary world to restaurant menus," reports flavor and fragrance manufacturer Symrise. "This isn't really a surprise, considering millennials who grew up during the 1990s haven't had the smoothest introduction into adulthood. More than any other current group, they are looking back to their childhood as a happier time full of fun, stability and comfort."3
Time and Again: Burger Brands Go Retro to Move Business Forward
McDonald's capitalized on the convergence of comfort and nostalgia with its limited-edition Happy Meal for adults created in partnership with clothing brand Cactus Plant Flea Market. The meal consisted of the customer's choice of Big Mac or 10 McNuggets, fries, drink and one of four collectible figurines, which Cactus Plant Flea Market designed along with the box.
In addition, customers who ordered in the McDonald's app October 3-30 were given weekly chances to win Cactus Plant Flea Market McDonald's merchandise. Famed for its streetwear and celebrity clientele, Cactus Plant Flea Market gave the boxed meal a special cachet for adults while the Happy Meal format and food harkened back to their childhood.
As Tariq Hassan, McDonald's USA chief marketing and customer experience officer, said in a lead-up to the launch: "We're taking one of the most nostalgic McDonald's experiences and literally repackaging it in a new way that's hyper-relevant for our adult fans. I can't wait to give fans a unique piece of art and culture as we dive headfirst into the dynamic world of Cactus Plant Flea Market together next week."4
Meanwhile, Burger King has launched a nostalgia-driven marketing campaign with the classic "Have It Your Way" jingle recast as a rap song with the tagline "You Rule." Retro meets hip-hop and comfort meets customization in the campaign, which celebrates the freedom of choice customers enjoy whenever they order from Burger King.
"The overall vibe of the ads is nostalgic: a marketing direction that many foodservice brands have taken lately to pull in millennial and Gen X customers who remember classic commercials from their childhoods," reports Nation's Restaurant News.5
From classic comfort foods to better-for-you options that don't skimp on flavor, Mondelēz Foodservice combines culinary innovation with beloved brand ingredients to help optimize menus across foodservice segments. Mondelēz Foodservice also provides snacking options from classic, nostalgic brands in smaller portions and formats for permissible indulgence, such as OREO Thins, meeting the needs of today's snack-happy consumers. Browse our Culinary Center for a grab-and-go buffet of recipes for every daypart and view Our Brands to learn more about our snacking offerings. Hankering for custom solutions to meet your menu challenges? Share your thoughts below.
1 Mondelēz International, The Harris Poll and Next Atlas, The Third Annual State of Snacking 2021 Global Consumer Trends Study
2 The Food Group, Healthy Versus Indulgent Foods Infographic, 2022
3 Symrise, "The New Nostalgia of Foods," May 10, 2022
4 Karlovitch, Sara, "Burger King crown the consumer king with new 'You Rule' tagline," Marketing Dive, October 6, 2022
5 Petre, Holly, "How nostalgia can help your brand," Nation's Restaurant News, October 7, 2022