Posted in Technology on March 3, 2020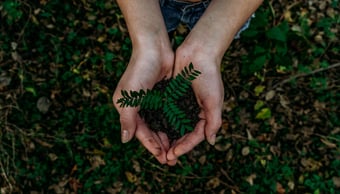 As each new year nears, industry experts and research analysts serve up a smorgasbord of foodservice trends and offer insights into what to expect in the coming months. So how did the prognostications pan out in 2019? Reviewing a few overarching trends could provide valuable food for thought.
In its 2019 Global Food & Drink Trends report, the market research firm Mintel forecasted a trio of data-driven predications: "an emerging circular view of sustainability, an increasing need for food and drink that keep pace with our busy lifestyles, and that healthy aging will become a new consideration in people's diets."1
In her postmortem on the report, Jennifer Zegler, Mintel's associate director of food and drink, explains Evergreen Consumption, or the circular definition of sustainability: "Company action and consumer understanding of sustainability has broadened to encompass the entire product lifecycle."1 The combined market influence of suppliers, manufacturers and consumers has spurred the growth of sustainable products and responsible consumption.
According to Zegler, "Mintel Global New Product Database (MGNPD) shows that on-pack use of ethical and environmental claims has risen in global food and drink launches from December 2015 to November 2019."1
Social Sustainability Surges in the States and Abroad
What's more, Evergreen Consumption extends beyond packaging and the responsible use and disposal of plastics. Zegler cites survey data which shows that nearly two in five German and Italian consumers consider sustainable sourcing a deciding factor in which food and drink items they purchase.1 And almost half of Chinese consumers surveyed feel motivated to buy foods and beverages whose production process reduces pollutants.1
Zegler points out that the American Beverage Association and a bevy of food and beverage corporations are actively engaged in joint ventures to improve recycling in the U.S.1
On a global scale, Mondelēz International is playing a vital role in evergreen manufacturing and social sustainability through its commitment to sustainable snacking. Zegler refers to the company's use of upcycled plastics to build school playgrounds in the Philippines as an example of corporate responsibility in action.1 Learn more about Mondelēz International's goals and progress as a leading snack manufacturer committed to responsible practices that support the well-being of people and planet.
Upward and Onward: Foodservice Upgrades for Savvy Market
Mintel also forecasted the trend of convenient packaged foods being upgraded to compete with mobile and online ordering (Elevated Convenience). The rise of takeout and delivery ordered digitally has exponentially expanded access to quick meals, snacks and drinks, forcing packaged foods to undergo upgrades in flavor and format to remain competitive.
As an example of the new wave of foodie-worthy packaged food, Zegler cites South Korea's frozen Ottogi Uno Bulgogi Pizza. Made with dough that is left to rise for 20 hours and stone-oven baked, the pizza can be cooked at home in minutes.
Mintel survey results underscore the need for Elevated Convenience. One in five adults in Brazil who have eaten out or ordered takeout are using delivery apps more often than in the previous six months, and in the U.S. more than four in five adults who have ordered delivery or pick-up in the three months to September 2019 order delivery because it is easy.2
Given the rise of the global economy and the cultural and culinary crosscurrents of the digital age, snack trends abroad and in the U.S. seem likely to feed off each other.
All's Well That Ages Well in Foodservice
Through the Ages, Mintel's name for the trend of better-for-you foods and beverages evolving to support aging well, is driven by an aging population's growing demand for nutrient-rich foods that promote long-term wellness. The appearance of collagen (known for join and skin wellness) in juices, dietary supplements and snack bars in 2019 is an example of food and beverage fortification for aging well.2
"Beverages, snacks and sports supplements can provide the energy, hydration, muscle-building and recovery ingredients that seniors of today and tomorrow will need to stay active and healthy," writes Zeger.2
The expert chefs at Mondelēz International can help your foodservice operation leverage the latest trends for higher sales and better margins. Reach out below for details.
1 Zegler, Jennifer, 2019 Global Food & Drink Trends: How'd We Do? Mintel Blog, Part 1 (Dec. 4, 2019). Retrieved from https://www.mintel.com/blog/food-market-news/2019-global-food-drink-trends-howd-we-do-12
2 Zegler, Jennifer, 2019 Global Food & Drink Trends: How'd We Do? Mintel Blog, Part 2 (Dec. 5, 2019). Retrieved from https://www.mintel.com/blog/food-market-news/2019-global-food-drink-trends-howd-we-do-22