Posted in Restaurant Operations on August 17, 2021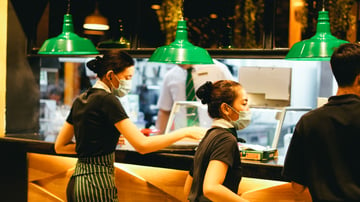 Even as the road to recovery opens up, the pandemic continues to have its twists and turns for foodservice operators. The light at the end of the tunnel has turned into a summer swell of foot traffic returning to restaurants. With restrictions lifting as the temperature rises, consumers seem more likely to make reservations than have reservations about dining in.
In fact, survey results from the market research firm Datassential show that as of June 12 only a quarter of respondents said they "definitely avoid" eating out—a precipitous drop from 68% between April 7 and 10.1 And 54% reported that they've noticed restaurants struggling to serve their customers due to a lack of sufficient staff.2 While 64% said they'd be willing to visit again despite staff interruptions, 31% would be willing to order differently3—which could delay the resurgence in onsite dining sales.
While some operators may attribute the labor shortage in part to overgenerous unemployment payments from the stimulus package, there can be little doubt that competition for workers has heated up this summer as restaurants reemerge from restrictions. Job growth has been particularly high for foodservice, with nearly 1 in 4 jobs created in restaurants and bars this June, according to the Bureau of Labor Statistics.4
So how do operators plan to handle the labor shortage? According to Datassential, 24% surveyed have no plans to start hourly pay above minimum wage, and 26% have no plans to restructure schedules to be predictable.5
Major Chains Strengthen Links with Labor
In support of franchisees, McDonald's is considering a sweeping expansion of employee benefits, including child care, elderly care and paid time off, based on a survey of over 5,000 McDonald's workers and managers.6 The burger giant announced in May an average pay increase of 10% for over 36,500 frontline workers across U.S. locations.6
Developed in partnership with owner-operators, McDonald's has introduced the Employee Value Proposition, an ambitious plan to enhance the working experience at the chain's restaurants.
"Our Employee Value Proposition was born from crew member, manager and franchisee feedback at the local level, and that partnership will be critical as we work to grow and expand this work across the McDonald's system," the chain's USA Chief People Officer Tiffanie Boyd explained. "I'm thrilled that owner/operators aren't just embracing the EVP—they're really making it their own, introducing plus-ups to our national programs that resonate with the needs and wants of their employees locally."5
McDonald's EVP reflects a growing trend of incentives to attract and retain restaurant workers. Pizza powerhouse Papa John's has announced a $2.5 million investment in new hiring, referral and appreciation bonuses, and Chipotle Mexican Grill now offers tuition payment for employees pursuing related degree programs at 10 universities.6
With labor in short supply and consumer demand surging, making sure your menu reflects the right mix to maximize sales is more important than ever. The chefs at Mondelēz International Foodservice are ready to create custom menu solutions with trusted brand ingredients for your foodservice operation. Tell us your culinary challenges below to learn how we can help feed your bottom line.
Please note: Data in this post is current as of this writing. The impact of the pandemic persists and influences events on a daily basis. We will continue to provide insights and updates as the situation unfolds.
1 Datassential, Simply Smarter Webinar PDF, June 24, 2021, p. 13
2 Datassential, p. 16
3 Datassential, p. 17
4 Bureau of Labor Statistics, News Release: The Empolyment Situation—June 2021, July 2, 2021
5 Datassential, p. 18
6 Ruggless, Ron, "McDonald's supports franchisee efforts to expand benefits," Nation's Restaurant News, July 14, 2021