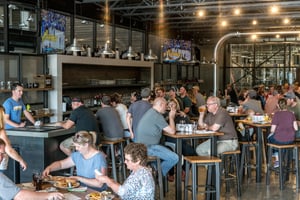 The culinary wanderlust of young consumers presents opportunities and challenges. While their big appetite for flavor experiences helps drive menu innovation, there is the risk that their quest for the new and exciting could divert them into becoming serial restaurant samplers rather than loyal patrons.
According to the foodservice research company Technomic, while 38% of millennials and 40% of Gen Zers surveyed like to visit familiar restaurants, they prefer a wide variety.1 The importance of brand loyalty to these core consumer segments is encouraging, but striking the balance between reliable favorites and exciting excursions can seem like a tall order.
Experience the Difference: Foodservice Cooks Up Engagement
Young consumers seem to hanker for eat-ertainment—an engaging, share-worthy experience that starts with food and extends to customer service, restaurant design, tech amenities and other factors. Seventy-two percent of millennials and 68% of GenZers surveyed consider visiting restaurants a form of entertainment.2
Millennials and Gen Zers seem to view restaurants as hubs for socializing—both on-site and online—provided the experience is worth sharing. As the heaviest users of foodservice mobile apps, millennials are likely to have higher expectations for the experience they provide. And the restaurants themselves should provide an Instagram-friendly experience, especially for younger millennials (26-33). Thirty-eight percent of younger millennials often post pictures of their food when they visit restaurants.3
Survey results from market research and analysis firm Datasssential provide insight into just how adventure-driven young foodservice consumers can be. Forty percent of millennials surveyed consider themselves experientialists, compared to 28% of the general population.4
Menu Innovation Musts: Eat, Drink and Be Experiential
With everything from Netflix to meal kits turning restaurant patrons into couch potatoes, how can restaurant operations not only capture interest but inspire loyalty? A few tips to grab and hold the attention of foodservice customers and prospects:
Whet their appetite for exclusivity: If it's a bold and unusual flavor experience that they can't get anywhere else, chances are they'll remember the item and keep coming back for more. Better yet, make sure signature dishes contain locally sourced and non-GMO ingredients to align with millennial expectations of freshness and quality.
Feed their need for photo-sharing: The more visually appealing the dish, the more likely it is to be posted and shared on social media. Set the stage with distinctive or dramatic decor that differentiates the ambiance from the same-old, same-old. Tableside preparation with consumer interaction also enhances the experience with a sense of theater that invites social snaps.


Balance taste adventures with tried and true: Set your menu apart with signature dishes, limited-time offers and seasonal specials, but don't forget perennial favorites. Familiar fare can be a go-to source of satisfaction for customers while making specializations stand out all the more.
Make it sharable and interactive: Design menu items that parties can share and customize to make the experience more social and personal. Sharing and interaction foster a social atmosphere that millennials and Gen Zers favor.
Give them a taste of high tech: Touch screens that let customers place their own orders, digital menu boards and apps that customize offers based on a user's order history are just a few tech advances that can elevate the customer experience.
Tap our world-renowned brands and deep expertise in culinary innovation to help ensure your operation offers the right product mix and the most engaging experience. Leave a message below or use our Contact Us page now.
1 Technomic,
Generational Consumer Trend Report,
2018, p. 45

2 Technomic, p. 7
5

3 Technomic, p.
94

4 Datassential,
FoodBytes: Millennials,
Feb. 2018, p. 8