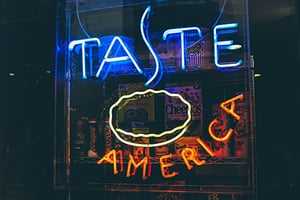 Millennials have the fever for flavor adventures—and as the largest U.S. age demographic,1 they just may take the cake as tastemakers whose preferences influence snack selections found on grocery stores and menus around the country.
As a recent article in The Washington Post reports, millennials love to snack, and their tendency to bypass traditional meals in favor of grazing drives demand for an ever-expanding array of snack options.1 In particular, healthy options such as roasted chickpeas, chia seed pudding and popped sorghum have emerged from obscurity to take a star turn as better-for-you fare.1
According to survey results from the market intelligence agency Mintel, millennials are the engine propelling the snacking revolution as the generational group most likely to snack four or more times per day.2 And they're fueling up on tasty treats.
While only 10% of Gen Xers and 9% of Baby Boomers surveyed have the four-or-more daily snacks regimen, a quarter of millennials do.2 And though well-being is a determining factor in snack purchase decisions, the majority of survey respondents snack to treat themselves.2
A Taste for Adventure Takes Menu Innovation Far
Enjoyment remains a sweet spot in the snackification of America. Open-minded and curious, millennial snack enthusiasts are predisposed to enjoy new flavor experiences, with a keen interest in ethnic cuisine and vegetarian and vegan options.1 Millennials continue to inspire menu innovation, compelling foodservice establishments and restaurant operations to diversify and expand their offerings.
"Flavor is an ever-evolving art, ripe with opportunities for interpretation, innovation and creativity," said Amanda Topper, Mintel's associate director of foodservice research.3 "Today, that opportunity lies in the expansion of international flavors and ingredients and in the years ahead, we predict the ingenuity of new dishes will come down to enhancing the chemistry of ingredients to create hearty masterpieces. The future of flavor also lies in creating healthy dishes without giving up satisfying taste."3
Mintel recently identified seven flavor trends that are poised to boost business and open up new horizons for foodservice operators.4
Modern Mediterranean: 66% of U.S. consumers surveyed are interested in Middle Eastern cuisine, which has grown 32% on U.S. restaurant menus from Q4 2015 to Q4 2017. Dates, pistachio and mint all saw growth during this time frame (19%, 2% and 48%, respectively).
Not Too Sweet: Desserts paired with flavors like olive oil and vinegar that balance sweetness are becoming popular. Olive oil as a flavor in desserts grew 16% between Q4 2015 and Q4 2017. Tart, tangy flavors like lemon (+9%) and passion fruit (+15%) are among those showing the greatest growth.
Functional Colorful: Flavor ingredients that combine the colorful visual appeal and high nutritional value are on the rise. Between Q4 2015 and Q4 2017, menu mentions grew for radishes (+11%), black garlic (+13%) and sumac (+34%).
Spicy Blends: African, Middle Eastern and Asian cuisinesfeature versatile spice blends that appeal to adventurous tastes. Thirty-two percent of consumers surveyed would like to see more African seasonings in retail foods.
International Spreads: A range of international flavors is finding its way into spreads, dips and sauces. Consumers surveyed express interest in seeing more Indian (49%), Middle Eastern (33%) and African (25%) sauces and condiments in retail foods.
Meaty Flavors: Plant-based proteins are increasingly popular. Forty-six percent of survey participants agree that plant-based proteins are better for you than animal-based proteins. But curing, grilling and smoking can give vegan and vegetarian fare the savory, meaty flavor diners still yearn for.
Future Trend: Kokumi: The sister taste of the unctuous, savory Japanese flavor of umami, kokumi offers rich, hearty, complex flavors achieved by slow-cooking, aging and ripening. Japanese for "delicious," kokumi points the way to bold flavor experimentation.
What do you think of millennial culinary wanderlust and the latest flavor trends? How are you catering to millennial snack fans' insistence on novel and diversified menu offerings? Explore our Culinary Center to find menu-elevating recipes that can help satisfy demand for daring flavor adventures.
1 Rosenbloom, Cara, "9 ways millennials are changing the way we eat," The Washington Post, Feb. 21, 2018.
2 Mintel, Top reason US consumers snack is to treat themselves, June 13, 2017.
3 Mintel, Mintel announces top flavor trends for US foodservice, Apr. 24, 2018.
4 Mintel, 2018 US Flavor Trends 2018. Downloadable here.