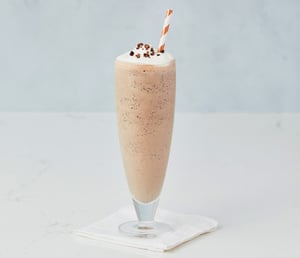 Given millennial demand for bold, adventurous flavor profiles and eclectic culinary experimentation, more chefs and operators are focusing on menu innovation in hopes of driving a higher check average.
Even the beverage category is brimming with ideas, as shown by the big splash mocktails are making at restaurant operations around the world. Bar drinks minus the booze? That may seem contradictory, but as the wellness foodservice trend continues to surge, consumer demand for better-for-you options spills over into beverages.
As Brandy Rand, chief operating officer of the Americas at IWSR Drinks Market Analysis, explained: "Consumer interest in low- and no-alcohol products has been on the rise, particularly over the last year, as part of a larger health and wellness movement."1
A survey by Distill Ventures, an investment firm focused on drink brands, found that 83% of bar managers in Los Angeles consider no-proof drinking a growing trend.1 Over 40% of Los Angeles restaurants have their own non-alcoholic drinks menu, and 30% of restaurants in New York City do as well.2
Distill Ventures backs the UK-based company Seedlip, which manufactures and markets a wide variety of premium non-alcoholic spirits, from tangerine gin to rosé wine to malt beer.
According to Heidi Dillion Otto, Distill Ventures portfolio director, "The growth story is really consumer-driven. The [no-proof] conversation has become much more mainstream. The number of press mentions that have happened from January of this year to now, compared to last year, is exponential."2
The mockup trend is also riding a rising wave of search activity online. Google Trends reports that searches for the word "mocktail" last year rose 42% compared to the previous year, and the phrase "non-alcoholic" surged 81% across global searches over the same time period.2
Coffee is caffeinating sales with innovative varieties like cold brew, whose daily consumption has perked up by more than 1,000 percent since 2015, reports the National Coffee Association.2 Nitrogenation—the process of infusing nitrogen into beverages to give them a creamier mouthfeel—has become popular in cold brew and is expected to be used in more drinks, according to Nation's Restaurant News.3
Sustainable and Plant-Based Foodservice Trends Flow into Beverages
With beverages as with food, flavorful is a good thing, but add sustainable to the mix and it's even better. Eighty-six percent of millennials surveyed are willing to pay more for a sustainably produced cup of coffee, and 46% view venues that offer sustainable coffee more favorably.3
What's more, plant-based drinks are on the rise, from chlorophyll water to plant-infused juices and smoothies to drinks that contain aloe. And along the same wellness lines, lower-calorie sparkling drinks with functional ingredients like adaptogens (intended to alleviate various ailments) and nootropics (purported to improve brain function) may see sales bubble up higher as traditional soda consumption continues to fall.3
Plant-based and functional beverages that are better for you and the environment are likely to crossover into the noncommercial segment, especially college food halls were young consumers value sustainable and natural food alternatives.
Let the chefs at Mondelēz International Foodservice elevate your beverage menu with innovative concepts like our Cappuccino Cookie Milkshake made with OREO Cookie Pieces. Drop us a line below to learn how we can pour on the beverage menu innovation for your operation.
1 King, Rachel, "2020 Could Be the Year the Mocktail Goes Mainstream," Fortune, Jan. 1, 2020
2 Ramirez, Elva, "Make Mine a Mocktail: Why The Non-Alcoholic Drink Trend is Here to Stay," Forbes, May 22, 2019
3 Thorn, Brett, "Functional beverages, cold brew, nitrogeneration and other drink trends revealed in news report," Nation's Restaurant News, Jan. 13, 20120