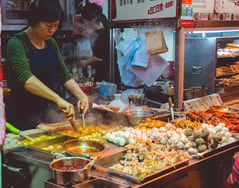 Consumers are kicking the same-old, same-old to the curb in favor of exotic flavors and ethnic cuisines, paving the way for international street foods to eat into more market share.
Survey data from the market research firm Technomic underscores diners' growing appetite for flavor profiles from diverse culinary cultures. Two-thirds of consumers surveyed eat global fare at least once a month, and 24% partake once a week.1 And more than a third (36%) say their interest in trying ethnic flavors has grown over the prior year.1
Technomic research shows that culinary influences and street foods from India, the Middle East, Africa and the Philippines are increasingly making inroads onto menus at emerging chains.1 Curries of varying spiciness, turmeric-infused dishes, sweet and hot pickled accents and sour flavors are trending.1
Among the on-trend restaurants Technomic cites is the fast-casual Chai Wallah, which promotes itself as "Los Angeles' India Chai and Street Food Kitchen" and features Indian street food, traditional teas and flavor-rich vegetarian fare.1
The popular Houston quick service concept Flip 'n Patties also gets a nod for its Philippine fare, including an over-the-top burger covered with Philippine sausage, fried egg and banana ketchup aioli.1
The rapidly expanding fast causal chain The Halal Guys features Middle Eastern foods and flavors, from chicken dishes to beef gyros to falafel varieties made all the more flavorful with a signature white sauce and potent hot sauce.1 "The pioneers of American Halal Food," as the chain bills itself, may be one of the most representative examples of the mass appeal of once-unexpected cuisine formats in the United States.
Word on the Street: What's Next (and Now) for Street Food?
Technomic anticipates that street food, especially from Vietnam, Thailand and India, will increasingly drive business among younger consumers1 (a reasonable forecast, given the Gen Z and millennial appetite for culinary wanderlust). To accommodate demand, limited service restaurant operations are expected to develop takeout-friendly and grab-and-go handheld formats for street-inspired fare emerging from other regions as well, including Ethopia, Philippines and Morocco.1
Indian cuisine, which offers abundant varieties of flavorful vegetarian dishes, also seems poised to surge, given the growing popularity of plant-based proteins and interest in better-for-you menu options that provide satisfying flavor experiences.
Authenticity is essential for successfully introducing street foods to the menu and can even help drive a higher check average. Forty-four percent of consumers surveyed always prefer completely authentic fare, and 32% expressed a willingness to pay extra for authenticity.2
So what cuisines are inspiring dishes that today's operators are featuring on their menus? Thirty-two percent of operators surveyed are menuing Greek dishes, followed by Cajun/Creole (28%), Thai (21%) and Cuban (18%).3 But with 36% of consumers surveyed interested in exploring regional varieties of mainstream ethnic cuisines,3 the market for global fare and street foods seems like an open road to greater sales and revenue.
Tap our culinary expertise to leverage the global street food trend, and let our chefs customize international concepts for your foodservice operation. Reach out below or use our Contact Us page for expert guidance on elevating your menu with authentic, internationally inspired appetizers, entrees and desserts.
1 Technomic, Future of LSR Consumer Trend Report (2018), p. 21
3 Technomic, US Ethnic Food and Beverage Consumer Trend Report Infographic, 2018. Downloadable here