Posted in Snacking on June 20, 2023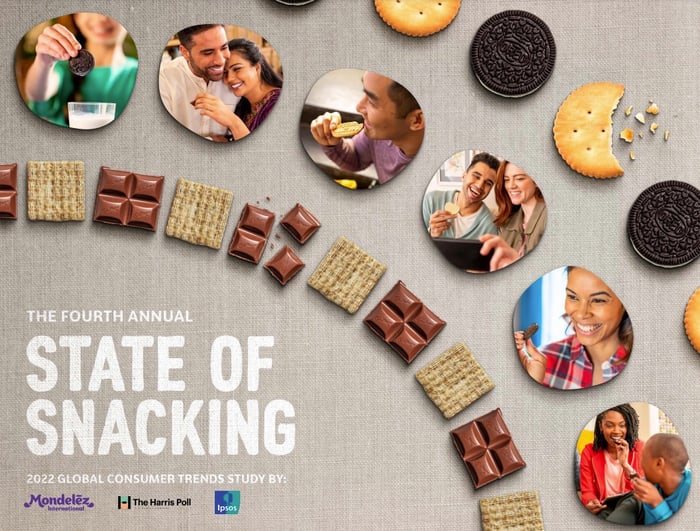 Ready to unwrap more snack sales? The Mondelēz International State of Snacking™ report is back with a fresh batch of delectable data and consumer insights to help foodservice operators optimize their snack selections.
An annual compilation of global survey results to help you hit the sweet spot with customers, the report serves up revelations about snack trends and the economic and cultural influences that shape consumer snacking behavior. Created in partnership with consumer polling specialist The Harris Poll and market research leader Ipsos, the 2022 report builds on previous editions while zeroing in on the impact today's economic challenges are having on consumer snacking patterns and purchases.
Given economic duress from supply-chain breaks, a shaky labor market, the war in Ukraine and other factors, snacking grew in importance as a form of refuge and relief. "Snacking continues to meet a growing range of needs across consumers' lives, with indulgence remaining a welcome part of a balanced lifestyle," Mondelēz International CEO and Chairman Dirk Van de Put writes in his intro to the report.1 "In fact, 3 in 4 consumers across the world (78%) attest 'these days, it's more important than ever to have moments of indulgence in the day.'"1
Bites and Insights: Key Takeaways for Foodservice Operators
As a source of ideas and inspiration, the report can help satisfy a hunger among foodservice operators and chefs for better-informed menu decisions. As Van de Put points out, it "helps us keep pace with current snacking attitudes and behaviors around the world and, importantly, anticipate and plan for future consumer trends."1
A few insights1 for operators to savor as they determine their snack selections:
Picking up where previous reports left off, the latest continues to track the evolution of snacking from occasional treat between meals to meal replacements, with growth in frequency and consumption. For example, whereas 78% of consumers reported snacking in 2013, the number rose to 86% in 2021, with an increase in average number of snacks consumed daily from 3.31 to 3.3.1 This data underscores the growing importance of an expanded selection of snack options and smaller plates on today's menus across foodservice segments.
The relationship between snacking and well-being (in terms of both people and the planet) proved top of mind for consumers surveyed, providing clear validation of Mondelēz International's commitment to deliver the right snack, for the right moment, made the right way.1 Sixty-eight percent of consumers check nutrition labels on snacks before buying them, and 7 in 10 prefer snacks with less plastic packaging.1
If you want more data-driven inspiration, be sure to download the full report. To explore the many ways the acclaimed chefs at Mondelēz Foodservice can apply the report's insights to develop custom menu solutions for your foodservice operation, just reach out below.
1 The Fourth Annual State of Snacking, 2022 Global Consumer Trends Study, Mondelēz International, The Harris Poll and Ispos