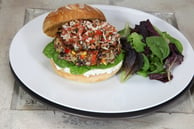 Burgers continue to beef up business—and not just the plant-based varieties that are sprouting up in major chains like McDonald's and Burger King and making sales sizzle in the frozen food sections of supermarkets.
As restaurant management software provider Upserve reported, burgers remain center of plate when it comes to feeding the bottom line. In America, where consumers eat about 50 billion burgers a year,1 the market seems to be a huge cash cow with ample room for growth.
Sure, sales of plant-based meat alternatives are bound to flourish, given the in
fluence of the better-for-you and flexitarian foodservice trends and the rise of ethical and environmental concerns over meat-based products. But the traditional burger remains popular, especially in restaurants, where 71% of all beef is eaten on a hamburger bun.1 The $73 billion dollar restaurant market1 for burgers presents a feast of meaty opportunities.
That said, an increasingly wellness-conscious consumer base is shifting demand from fast, cheap eats to traceable premium beef. Three out of 5 consumers surveyed want to know where their beef comes from (68% of them are millennials).1 The stakes are high, with 40% of guests willing to pay more for burgers made with premium ingredients.1
And while plant-based burgers have drawn a lot of attention, other burger varieties are also in high demand. Forty-six percent of consumers surveyed want more chicken burgers, followed by 42% who would like more turkey burgers.1
Meat-ing Expectations: Burger Trends for a Higher Check Average
Market research firm Technomic serves up fresh insights into the latest burger trends and consumer preferences in its 2019 Burger Consumer Trend Report. While 23% of consumers surveyed would consider ordering veggie burgers, the overwhelming majority (87%) have a preference for beef.2 Fifty-five percent eat burgers at home or at foodservice at least once a week.2
Opportunities for customization seem to fend off burger boredom. Forty-eight percent of survey participants expressed a willingness to wait longer to build their own burger.2 Toppings that are tops with Technomic's survey sampling are lettuce (71% versus 61% for tomatoes) and American cheese (70% compared to 59% for cheddar).2 And ketchup (65%) squeezed out more popularity than mayo (57%).2
Price sensitivity remains a factor, but while 59% cite affordability as one of the most important considerations when choosing where to order a burger, 35% strongly agree that premium toppings are worth higher prices.2
On the flip side, consumer demand for freshness may conflict with the convenience of delivery. Forty-seven percent of consumers expressed reservations about the freshness of burgers ordered for delivery—a stat which underscores the importance not only of delivery speed, but the need for containers that keep food hot and fresh longer.2
For menu-building burger variations like our Veggie Burgers with PREMIUM Saltines, reach out below. Learn how our chefs can custom-create concepts to help your foodservice operation sink its teeth into more burger sales.
1 Nixon, Megan, Are Consumer Trends Changing The American Burger Industry? Upserve, Aug. 10, 2018
2 Technomic, Consumer Trends Reports: Burgers Infographic (2019). Downloadable here