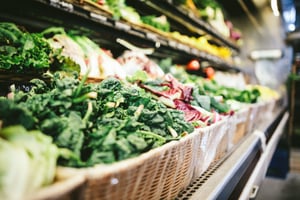 Millennials continue to flex their muscle in the foodservice marketplace. The prevalence of flexitarianism—the trend toward consuming less meat and diversifying food intake with more meat alternatives—is a case in point.
"The shift toward plant-based foods is being driven by millennials, who are most likely to consider the food source, animal welfare issues, and environmental impacts when making their purchasing decisions," said Fiona Dyer, consumer analyst at the market data and analytics company GlobalData.1
As Forbes reported, the millennial-driven rise of flexitarianism has been so meteoric, it prompted Meat Industry Hall of Fame President Chuck Jolley to dub it one of the six great challenges of agriculture in 2018.1
While millennials may occupy a large place at the flexitarian table, the foodservice trend seems to be a global feeding frenzy across consumer demographics. With a full 70% of the world population either reducing or eliminating their meat consumption according to GlobalData,1 diversifying menus to match consumer preferences for more of a mix of vegetarian, meat and fish options now seems essential.
The Meat of the Story: Flexible Foodservice Options
Menu flexibility remains key. While U.S. sales of meat substitutes doubled from 2013 to 2018, fresh meat showed its staying power, as sales of beef, veal, poultry and pork rose from $73.3 billion to almost $78.5 billion over the same period.2
Survey results from the market research firm Technomic determined that more consumers have adopted "restrictive specialty diets" over the last few years, and they tend to classify themselves as "semivegetarian" or "flexitarian" due to the diversification in their diets.3
As Bret Yonke, Technomic's manager of consumer insights, explained: "This desire for flexibility highlights the fact that dietary lifestyle choices are often not all-or-nothing decisions for consumers. Semivegetarian and flexitarian diets appeal to those who aspire to eat healthier while still providing leeway to splurge on meat or seafood occasionally."3 Yonke recommends that operators give consumers greater flexibility with a mix of protein substitutes and build-your-own options.3
Taste the Difference: Flavor and Wellness Help Drive a Higher Check Average
Gratifying taste, of course, is critical for any menu item to be successful—especially so given the millennial appetite for flavor adventures. And yet only 27% of survey participants who eat vegetarian or vegan dishes are satisfied with the taste of the options restaurants provide.3
While the market research firm Mintel cites taste as U.S. consumers' top priority for meat alternatives,4 wellness (personal, social and environmental) remains a powerful factor in the increase in flexitarian tendencies. GlobalData found that 34% of consumers surveyed will consider eating vegan meat because it's considered better for you, and up to 76% expressed a preference for ethical, environmentally friendly and socially responsible food products.5
Let the chefs at Mondelēz International elevate your foodservice operation's menu with flavorful flexitarian-friendly dishes like our Spicy Peanut-Dressed Pasta and Vegetables made with NUTTER BUTTER Variegate. For customized dishes to meet the growing demand for menu flexibility, reach out below.
1 Rowland, Michael Pellman, "Millennials Are Driving The Worldwide Shift Away From Meat," Forbes (Mar. 23, 2019). Retrieved from https://www.forbes.com/sites/michaelpellmanrowland/2018/03/23/millennials-move-away-from-meat/#63dc9cc7a4a4
2 Wohil, Jessica, "How The Rise of Flextarians is Powering Plat-Based Foods" Ad Age (Apr. 1, 2019). Retrieved from https://adage.com/article/cmo-strategy/power-plant-based-food/317167
3 Technomic, Consumption of meatless dishes remains strong as consumers increasingly follow restrictive specialty diets (Feb. 27, 2019). Retrieved from https://www.technomic.com/newsroom/consumption-meatless-dishes-remains-strong-consumers-increasingly-follow
4 Johnson, Patty, What consumers really think about meat alternatives, Mintel blog (Oct. 1, 2018). Retrieved from https://www.mintel.com/blog/consumer-market-news/what-consumers-really-think-about-meat-alternatives
5 Retail Insight Network, Flexitarianism could help battle obesity and reduce greenhouse emissions (May 1, 2019). Retrieved from https://www.retail-insight-network.com/comment/flexitarian-trend-2019/