Posted in Trends on September 13, 2022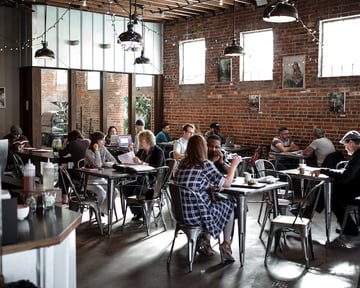 As much as the pandemic has transformed the foodservice industry, the return of foot traffic compels restaurant operators to return to an emphasis on brick-and-mortar design as they rebalance off-premise and onsite business.
According to the market research firm Datassential, 22% of operators surveyed have either already redecorated their dining rooms to attract more customers or have plans for a redesign on the table.
1
And the finding that 64% of operators don't think they can succeed with a smaller brick-and-mortar footprint underscores the urgency of refocusing on restaurant design.
1
No wonder, then, that maximalism is a growing trend in restaurant design. "T​he often all-white minimalistic designs brought sterile vibes, while maximalism with its generally bright colors and pleasantly clashing patterns tends to promote optimism and fun, two things consumers are increasingly seeking out as they emerge from quarantine and pandemic fear," reports Datassential.1
Another key trend: Nostalgic and retro interior design with a vacation vibe that feeds a pent-up hunger for pre-pandemic normalcy and harkens back to happier days of carefree getaways.1 "Nods to decades past are increasingly merging with tropical flair (shell-shaped chair backs, wicker seating) to give diners a sense of escape," Datassential explains.1
Like maximalism, the nostalgia trend is influencing major chains as well as independent establishments.1 As Rebecca Kilbreath, editor in chief of Restaurant Development + Design, pointed out: "I think there's a comfort in familiarity, and legacy brands might start to lean into that. For example, Pizza Hut has some retro red roof outposts, and it wouldn't surprise me if other brands followed suit."1
Raising the Bar: LBD Japanese Bar & Lounge and Bon Appetit
JINYA Holdings Inc., which owns the JINYA Ramen Bar chain, is expanding nationally and globally with new design concepts that reflect the return of in-store traffic. On August 10, the holding company opens the first location for LBD Japanese Bar & Lounge in Honolulu.2 Upscale and bar-oriented, with a sophisticated yet relaxed ambience conducive to lounging and lingering, LBD Japanese Bar & Lounge will specialize in shareable small plates and liquors of Japanese provenance.2
"We have lower tables and chairs to create more of a bar and lounge ambience," JINYA founder and CEO Tomo Takahashi said. "On Friday nights, we will bring in DJs to create more of a party atmosphere."2 JINYA Holdings plans to bring the LBD concept to major urban hubs across America, including Hollywood and New York City.2
Meanwhile, Bon Appetit Management Co., a foodservice solutions provider for business and campus venues, is introducing an innovative concept for multi-tenant locations: high-end restaurants that operate on-site yet serve the public too. Bon Appetit District Manager Alison Harper describes the operations as "an amenity restaurant. They are there to provide an amenity for multi-tenant campuses."3
A step up from the typical on-site cafeteria or restaurant, the new Bon Appetit restaurants "offer premium dining, spectacular venues, extensive event spaces, multiple socialization activities, high-tech convenience and even added services like the fitness center at the Traverse location in South San Francisco," according to Nation's Restaurant News.3
"We wanted to make these spaces really friendly for people to gather with their co-workers after work," Harper explained. "Also, companies like to host happy hours and lunches so it's important that these spaces be conducive to allowing people to do that."
As a subsidized amenity based on usage rather than the fixed cost of a company cafeteria, these restaurants are economically appealing especially for small- to midsized corporate tenants with workforces that may still be partially remote. Consistent with the Bon Appetit commitment to sustainability, the operations emphasize local sourcing, energy conservation and waste reduction.3
Want to stay on ahead of the curve with actionable, data-driven insights into culinary, operations and trends transforming the foodservice landscape? Mondelēz Foodservice offers a feast of food for thought—on the house—at Our Insights page. What's more, our acclaimed chefs are renowned for menu innovation that helps serve up sales off- and on premises. Share your thoughts or reach out for more info below.
1 Datassential, FoodBytes: Restaurant Design Trends, July 2022
2 Fantozzi, Joanna, "JINYA Ramen Bar parent goes all in on national expansion with new lounge concept," Nation's Restaurant News, July 28, 2022
3 Buzalka, Mike, "Bon Appetit grows public restaurant portfolio in B&I locations," Nation's Restaurant News, July 28, 2022