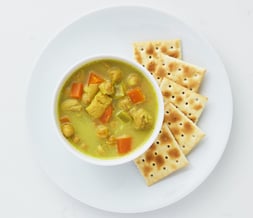 With all the buzz generated by third-party platforms like GrubHub and DoorDash, not to mention the inroads in-house fleets are making into the market (think Panera), it's no wonder online food delivery is projected to fuel $200 billion in sales by 2025.1
Sure, there have been bumps in the road, such as high delivery fees and tight margins. But in the span of a few years, online food ordering has gone from a small portion of the market with limited choices to an ever-expanding buffet of restaurants and culinary options.
The sheer convenience of online food ordering for today's busy and digitally savvy consumer seems a key factor fueling the segment's growth. The research and consulting firm Frost & Sullivan valued the industry at $82 billion in gross revenue bookings—and expects a cumulative growth rate of 14% to drive that figure to increase by more than double by 2025.1=
Delivering Growth Across America and the Globe
There are more than 10 online food delivery companies in North America, with Grubhub, the preeminent player, biting off over a third of the market.1 Valued at $20 billion, Uber Eats, another third-party platform powerhouse, revs up $1.4 billion in revenue annually, delivering almost a billion meals every year in more than 670 cities on six continents.1
These and other delivery companies have been feasting on investment capital—upwards of $9.6 billion in 2018 alone.1 Deep-pocketed investors, including Alibaba, Tiger Capital and SoftBank Group, remain bullish about the growth potential of online food ordering.1 They seem to be banking on the new year to usher in a growing appetite for delivery apps.
According to Nation's Restaurant News, 2019 was a year of unprecedented delivery growth that will continue into 2020 and beyond."2 NRN cited data from LEK Consulting, a global strategy consulting firm, showing that "for the first time off-premise revenue is surpassing on-premise sales and is expected to grow at more than triple the rate of in-restaurant sales through 2023."2
Online Orders Driving a Higher Check Average—and Menu Innovation
What dishes will help drive delivery and takeout sales to new heights in 2020? DoorDash has identified a few foods which, based on a greater than 1,000% increase in orders for 2019, can be expected to deliver robust revenue in the new year.2
DoorDash customers surveyed ranked Thai food as the best new cuisine they tried in 2019, making it a safe bet to become one of the hottest cuisines ordered for delivery in 2020.2 As a DoorDash spokesperson explained: "We're seeing that our customers are exploring more diverse flavors when ordering food, as seen by the increase in appetite for Thai and 30% saying that they typically eat 5-10 different cuisines per month."2
Side dishes are expected to be popular delivery items in the new year, given that over 98% of DoorDash users surveyed said they order side dishes with their meals. Hash brown orders were up 1,200%, and Brussels sprout orders sprang up 1,280%.2
Cream cheese rangoons, an unexpectedly popular side dish, saw a 1,360% increase in orders for 2019 and ranked #2 on DoorDash's list of foods on the rise for 2020.2
Desserts are also driving delivery sales—especially molten chocolate cakes (up 1,350%).2 And apple pie sweetened off-premise sales with a 1,550% increase.2
Among the other foods on DoorDash's 2020 hot trend list are tortilla soup, fried fish sandwiches and build-your-own anything (96% of customers surveyed customized their orders).2
Let the chefs at Mondelēz International Foodservice help your operation stay on top of the trends with recipes like our Chicken Curry Soup with PREMIUM Saltine Crackers. Inquire below to learn more about our customized menu solutions for both off- and on-premise sales.
1 Sarwant, Singh. "The Soon To Be $200B Online Food Delivery Is Rapidly Changing The Global Food Industry," Forbes (Sept. 9, 2019). Retrieved from https://www.forbes.com/sites/sarwantsingh/2019/09/09/the-soon-to-be-200b-online-food-delivery-is-rapidly-changing-the-global-food-industry/#67125b66b1bc
2 Fantozzi, Joanna, "8 delivery and takeout trends to expect in 2020," Nation's Restaurant News (Nov. 14, 2019). Retrieved from https://www.nrn.com/consumer-trends/8-delivery-and-takeout-trends-expect-2020