Posted in Foodservice Industry on April 20, 2021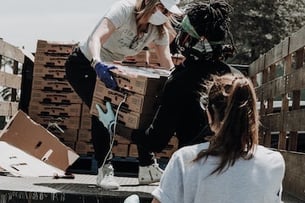 The pandemic marked one of the worst periods in the history of the restaurant business, but it brought out the industry's best too. Sales sank and restaurants were shuttered, but while many operators struggled to make money, others managed to make a difference. Here are just a few of the standouts whose inspiring goodwill and creative thinking made an especially bad time better for many people.
José Andrés: Famed for feeding the bottom line with his culinary creativity and innovative restaurant concepts, this acclaimed chef and restauranteur is also renowned for feeding the hungry. The founder of ThinkFoodGroup, which owns and operates over 30 restaurants,1 Andrés is the mastermind and driving force behind World Central Kitchen, the not-for-profit organization devoted to providing hunger relief to areas struck by natural disasters and other crises. Last year, ThinkFoodGroup turned restaurants in New York City and Washington, D.C., into community kitchens that served inexpensive or free meals based on need due to the pandemic.2 Meanwhile, World Central Kitchen kept foodservice workers employed and restaurants operating by commissioning meals for hospital workers and others.2 The program provided more than 36 million meals in 400 cities, with participation from more than 2,500 restaurants.3 What's more, the organization's Restaurants for the People program purchased meals from restaurants and delivered them to the needy,4 thereby helping to relieve both communal hunger and operators' financial hardship.
Greg Baxtrom: Uplift during the downturn wasn't limited to large organizations. Independent operator and chef Greg Baxtrom exemplified how smaller establishments could still make a big difference in their communities. When his celebrated restaurant Olmsted in Brooklyn, New York, had to shut down due to COVID-19 restrictions, Baxtrom acted fast and reopened three days later as a food bank to provide lunches for hospital workers and free food and supplies to out-of-work restaurant employees and others in need.5 Baxtrom and his team served 200–400 meals a week and converted the dining room into a grocery store where people could purchase Olmsted's inventory of food items.5 Baxtrom used the proceeds from the sale of the inventory to pay employees and fund the food bank. Donated ingredients from his own and other restaurants were used to prepare dishes for the food bank.5 Baxtrom's culinary ingenuity and resourcefulness were key in helping to feed a community in distress. "We're not being creative because we want to be creative with the food, we're being creative because we want to make random stuff taste good," Braxtrom said. "It's about nourishment and reaching as many people as necessary. We're not just operating a food bank, we're operating a food bank during a pandemic."5

Peter Cancro: As CEO of the fast casual sandwich chain Jersey Mike's Subs, Cancro mandated a fundraising TV campaign that generated over $2 million last year for Feeding America, the nonprofit network of food banks.6 In addition, the eateries in the Jersey Mike's Subs chain (the majority of which are franchised) donated millions of submarine sandwiches to healthcare workers, seniors, children and others in need.7 "Throughout this crisis, what our owners have done is incredible: donating to first responders, hospital workers, families, kids in need and senior citizen homes that were on lockdown," Cancro said. "So many of the things we do, no one knows; we just sort of do it."7 Cancro's leadership has fostered a culture of giving exemplified by the company's annual Month of Giving every March. The fundraiser began in 2011 and has raised more than $33 million for a wide variety of charities. On the last day of each Month of Giving, the chain donates 100% of the day's sales to charity.7 While last year's Month of Giving was postponed until 2021 due to COVID-19, Cancro believes it could raise $9 million this year.7
At Mondelēz International Foodservice, we share the spirit of giving and aim to make life better for the needy in America and globally. The Mondelēz International Foundation is committed to investing $50 million to community programs to help members of at-risk communities around the world lead healthier lives.
From making lives better to finding the right menu mix for your operation, Mondelēz International Foodservice is a trusted source of ideas and inspiration. Reach out below to learn how we can help your business transition beyond the pandemic and make the most of better days ahead.
1 ThinkFoodGroup, About Us
2 Thorn, Bret, "José Andrés throws lifelines to restaurants and people in need," Nation's Restaurant News, Jan 20, 2021
3 World Central Kitchen, #ChefsforAmerica
4 World Central Kitchen, Restaurants for the People
5 Ciccone, Terri and Eater Video, "How Brooklyn Restaurant Olmsted Feeds 400 Frontline Workers a Week During the Pandemic," Eater, June 13, 2020
6 "Jersey Mike's Teams with Feeding America Once Again," QSR Magazine, Nov. 16, 2020
7 Pytell, Jim, "Jersey Mike's Gives Back in Big Ways," New Jersey Business Magazine, July 7, 2020