Posted in Business & Industry on June 16, 2020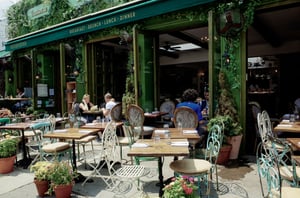 As government restrictions on restaurant operations loosen, the industry seems to have shifted focus from eating as few losses as possible to feeding the bottom line. Opportunities and challenges abound in this transitional period of social distancing, hypervigilant hygiene, and dependence on delivery and takeout. The "new normal" of modified operations and changing consumer demands is here for the long haul, even as much of it continues to evolve.
"The restaurant industry will never go back to 'normal' again," says
Gary Stibel, founder and CEO of New England Consulting Group. "Memories are short; people will come back. But it will take a couple years for traffic to get back [to the way it was before]. You'll see a spike when we reopen the country—people are landlocked right now and want to get out—but that will soon level out."
1
According to survey data from the research firm Datassential, 70% of consumers say that eating out will make them feel normal again. But only 20% stated they "absolutely would" visit a restaurant right after it reopened; 39% said they "might consider" going to one; and 41% responded, "No way."2
Given the long-term economic impact of the outbreak, financial concerns and fear of infection present roadblocks in navigating traffic back to on-premises dining. With over a quarter of consumers bracing for more than six months of financial impact, and consumers overall anticipating spending only 5% of their stimulus checks on dining out,1 value looms large in the immediate aftermath of COVID-19.
No surprise, then, that Datassential found 78% of consumers are hungry for family meal deals, such as buy-one, take-one entrée offers.3 And 70% are interested in restaurants as popup grocery stores selling bread/bakery items, fresh produce, and fresh meat/seafood.3 Panera and Subway are examples of major restaurant chains making inroads into the grocery pickup and delivery business.
Independents and Chains Cook Up Creativity
When the COVID-19 outbreak forced restauranteur Kevin Lillis to shutter his Jaxon Texas Kitchen & Beer Garden in Dallas shortly after it opened, he shifted to selling his inventory as groceries to customers. Lillis also landed a contract to prepare meals for local hospitals though the relief organization World Central Kitchen. And his beverage director offered daily virtual cocktail classes on Instagram and made his creative concoctions available for takeout.
The operation's innovative approach to shoring up business was instrumental in ensuring a profitable weekend when Jaxon was allowed to reopen its dining room at 25% capacity.4
Global powerhouses like Starbucks have also had to navigate seismic shifts in the market with skill and ingenuity to adapt to the new normal. The coffee kingpin recently announced it has regained 60%-70% of its pre-pandemic U.S. sales.5 Starbucks plans to promote an on-the-go format that appeals to consumer demand for convenience and allays concerns over coronavirus infection.
As the chain's CEO Kevin Johnson explained: "Since approximately 80% of our store transactions before the crisis were on the go, driven in many ways by the use of the Starbucks mobile app, we were already adapting to new consumer trends that balance the need for convenience on-the-go with the desire for connection in our stores."5
Starbucks' pandemic recovery strategy includes more pickup-only stores, extending curbside options, and reducing store hours and employee headcount.
Whether you're an independent foodservice operation or part of a major restaurant chain, Mondelēz International Foodservice has the trusted brands and culinary expertise to help you thrive in the new normal.
Share your thoughts below and let us know if you'd like to learn about our innovative menu solutions in the age of COVID-19.
1 Fantozzi, Joanna, "How the restaurant consumer will change in a post-COVID-19 world," Nation's Restaurant News, May 18, 2020
2 Datassential, COVID-19, Report 16: The Human Condition, May 5, 2020
3 Datassential, COVID-19, Report 11: Reinvention, April 10, 2020
4 Thorn, Brett, "How Kevin Lillis adapted when the coronavirus forced Jaxon restaurant in Dallas to close right after it opened," Nation's Restaurant News, May 21, 2020
5 Fantozzi, Joanna, "Starbucks has regained 60-65% of its pre-COVID-19 U.S. sales, says CEO Kevin Johnson," Nation's Restaurant News, May 21, 2020