Posted in Desserts on September 15, 2023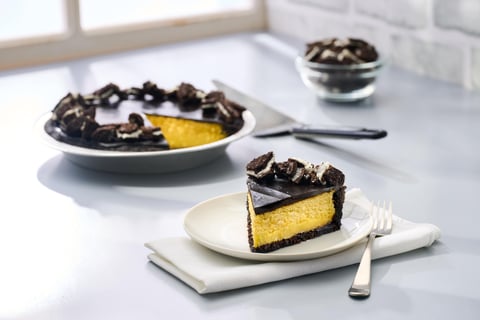 Operators enjoy success with individual pies, seasonal variations, nostalgic favorites

Today's adventurous consumers are clamoring for all sorts of pies, from nostalgic classics to on-trend flavor mashups, and operators should not be afraid to experiment and follow growing pie trends for 2023.
"Pie has made a comeback in the last several years, so we're seeing a new generation of pie lovers that aren't tied to preconceived ideas about what pie should be, and they want to try it all," says Annika Corbin, founder and CEO of I Like Pie Bake Shop, which operates two locations in California.
The I Like Pie Bake Shops, which specialize in individual-sized pies, offer both traditional flavors like Dutch Apple, Pumpkin, and Key Lime, and less conventional choices such as Cookie Butter, Strawberry Shortcake, Bananas Foster, Lemon Danish, and Chocolate Sin.

Pies of all varieties and popular and trending baked goods are the No. 6 dessert variety in terms of restaurant penetration across the country, appearing on 23.4% of menus, according to a 2022 Datassential report on the dessert category. Cake is No. 1, followed by cookies, ice cream, cheesecake, and brownies, in that order.
Seasonal Pie Flavors
Unlike many of these other dessert ideas for restaurants, however, pies lend themselves especially well to seasonality.

Strawberry pie and lemon pie are the top two seasonal dessert varieties for spring, for example. Grasshopper is also the most popular flavor for spring. Rhubarb and lemon meringue are also popular spring dessert flavors that are commonly found in pies.
In the summer months, pies claim the top three spots for seasonal desserts, led by blueberry pie, followed by berry pie and peach pie, and banana cream pie is not far behind.

Fall, of course, ushers in such classics as pumpkin pie, the No. 2 seasonal dessert, along with caramel apple pie, pecan pie, and apple pie, all in the top six slots.

Cherry pie is the No. 1 seasonal dessert for winter, and French silk and chocolate cream are also popular pie trends in the winter months.
For example, in 2022 Mondelēz Brand Ambassador Chef Keegan Gerhard promoted a Snickerdoodle Holiday Pie made with Chunky CHIPS AHOY!® Cookie Pieces on the menu at DBar in Denver, CO. The festive pie included a Snickerdoodle Crust made with Chunky CHIPS AHOY!® Cookie Pieces, loaded with a Cinnamon Roll, Dulce de Leche and Chunky CHIPS AHOY!® filling and a salted caramel center. The pie was topped with cinnamon Chantilly cream, even more Chunky CHIPS AHOY!® cookie pieces and holiday sprinkles.
Consider these pie trends for the upcoming fall and winter seasons, or any time of year:
Hand-held, Portable Dessert Pies
While slices of whole seasonal pie are staple desserts at diners and other full-service restaurants, many quick-service operators have embraced their own hand-held versions of the pie concept, either fried or baked.

McDonald's, for example, recently debuted its new Cookies & Crème pie in select markets across the U.S. for a limited time. The company also continues to offer its iconic hand-held Baked Apple Pie.

The Cookies & Crème pie, which had previously been available in some markets outside the U.S., is made using a crust of OREO cookie pieces, filled with a light vanilla crème and cookie chunks.
Other examples of hand-held pie trends that have recently popped up on quick-service menus include the Coconut Pineapple Pie at Jollibee. The limited-time offer, which appeared this spring, featured real pieces of coconut and pineapple in a sweet syrup, encased in a buttery, flaky crust.
Pies for One
Mini, individual pies have also been on trend. JJBakes & Co., for example, recently featured a mini Southern Dark Chocolate Silk Pie with Chunky CHIPS AHOY! Cookie Pieces for National Chocolate Chip Cookie Day! The tart, crafted by Mondelēz Brand Ambassador Chef Jackie Joseph, combined a crispy tart shell, silky smooth chocolate filling, and glossy Italian meringue all incorporating Chunky CHIPS AHOY! Cookie Pieces.
Dylan Wickersham, head of sales and marketing at Wick's Pies, which operates a bakery/cafe in Winchester, Indiana, and also makes pies and pie shells for other operators and retailers, said mini pie shells as small as 3 inches have seen strong demand in the last five years or so.

The company's signature product, Sugar Cream Pie—which Wickersham describes as being like a "country crème brûlée" and a Indiana favorite—is sometimes cut into slices, deep-fried and served as an individual treat at county fairs.

I Like Pie, meanwhile, has built its concept around individual pies, both as savory entrées and sweet desserts. Corbin says offering mini pies allows consumers to try several different varieties, much like cupcakes allow consumers to sample multiple varieties of cakes.

"We're all about options," she says. "People who come to us leave with a dozen different types of pie in the same size box as a typical whole pie."
The I Like Pie offering includes dessert pies in Sweet Jelly Jar, Hand Pie, and Whole 10-inch varieties.

The bakery recently offered a Double Chocolate OREO pie as a "pop-up" special for a limited time. It included chocolate pastry cream and OREO pieces in a traditional crust, topped with a mound of chocolate whip.

"Some products lend themselves so nicely to what we do, and our customers respond really well to a flavor profile that they already know and love," Corbin says of incorporating branded items such as OREO Cookies. "They also enjoy seeing a new application of a beloved product."

Among the keys to success is incorporating the brand name into the title or description of the pie, she says.

Corbin says the restaurants' cream pies are popular, but Banana Cream, Cookie Butter, Strawberry Shortcake, and Key Lime are always the top sellers.

"Our Chocolate Chip Chess and Caramel Apple are also up there," she says.
Other cream pie dessert restaurant menu ideas include:
The Right Crust
Wickersham and Corbin agree that having a good crust is critical to any pie program.

"As a pie maker, it's everything," says Corbin. "It's the foundation for any good pie, and it's a bit like a signature for the baker. I think each crust has a personality, and it should connect with the vibe of the business. It's as if we get to know the baker a little through their crust."

Wickersham, says the key to his company's award-winning pie shells are that they are made in small batches, using simple ingredients.

"It's got the right amount of flakiness, and just a little taste of salt to it," he says. "And it just performs exactly the way a pie crust should perform."

Whether served as individual treats, or shared in classic, nostalgic forms at holiday gatherings, pies offer appeal to a variety of consumers, especially when made with on-trend, high-quality ingredients.

For more ideas, pie trends, trending baked goods, and inspiration to drive excitement and profitable sales in your dessert menu, visit the Mondelēz Foodservice Culinary Center.